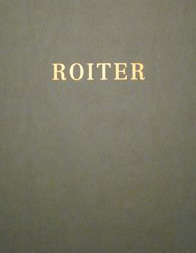 availability unknown, if interested please write an email
He is the traveller who sends us on our way: Andrei Roiter, born in Moscow in 1960 and oscillating between Amsterdam and New York since 1990, often with detours via Russia to visit family. Bon Voyage is a slogan referring to the work, but at the same time it is an encouragement and greeting to the visitor who comes to that work from the opposite direction.
The artist and his public cross one another en route: the provisional terminus for the one is the point of departure for the other; the art is both a meeting place and an intermediate station.

Roiter's work can never be captured in purely formal terms, not even when it is clear that it owes tribute to Russian Constructivism, which ironed out capricious reality with its mathematical play of forms. And although enough references to Malevich emanate via black and red squares, Roiter's work is less disengaged. He does not produce abstract icons. The subtle meditative character of his sculptures and paintings are closely connected to everyday life.
In his work, Roiter, who studied at the Architecture Institute in Moscow, erects the décor of his own life as a passer-by and lends it the power of metaphor. He has made countless little buildings: scale models of waiting rooms, watchtowers, restrooms, shelters and study rooms. These are fragile structures, manually built from waste materials that may have been found on the streets or may come from his studio or library. They fit together just as irregularly as a provisorily constructed tree hut. Planks and pieces of cardboard may be supported by books, or by photos and jotters. In this way, small nestboxes for dreams of the future and (youth) memories arise on meagre foundations such as a music stand. It is architecture blessed with a character and a soul, and therefore it is also the place of refuge for those driven to internal emigration - the emigration of the heart.