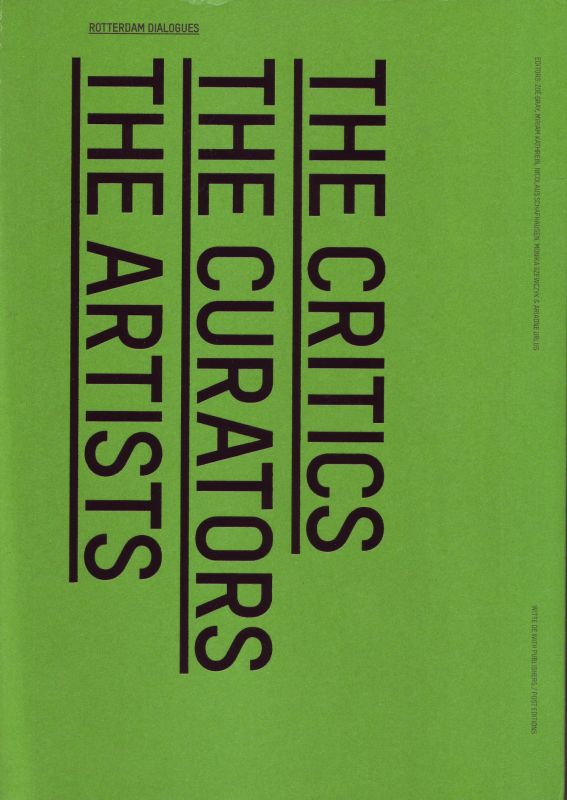 Article Number: 2697
Soft Cover,
English
, Thread Stiching, 272 Pages, 2010,
post editions
, ISBN 978-94-6083-017-4
Rotterdam Dialogues. The Critics. The Curators. The Artists.
€ 35.80
On three occasions, between the fall of 2008 and the spring of 2009, Witte de With, center for contemporary art, organized three symposia under the title 'Rotterdam Dialogues: The Critics, The Curators, The Artists'. Each three-day event focused on one agent in the art world, looking at their expectations, positions and the contexts in which they operate.
If a book cannot capture the atmosphere of lively excitement of 35 international critics, 48 curators and 57 artists, not to mention the 500+ visitors who attended each symposium, it can highlight the individual tone and spirit of many discussions that remain, by necessity, unfinished. This book follows a chronological structure, containing selected transcriptions from each symposium and the outcomes of the associated workshops. After this comes a free-wheeling section titled 'What are you talking about now?', a question sent to all the guests in the months that followed the symposia. Their diverse reactions give a sense of the range of characters, ideas and practices that the symposia brought together.