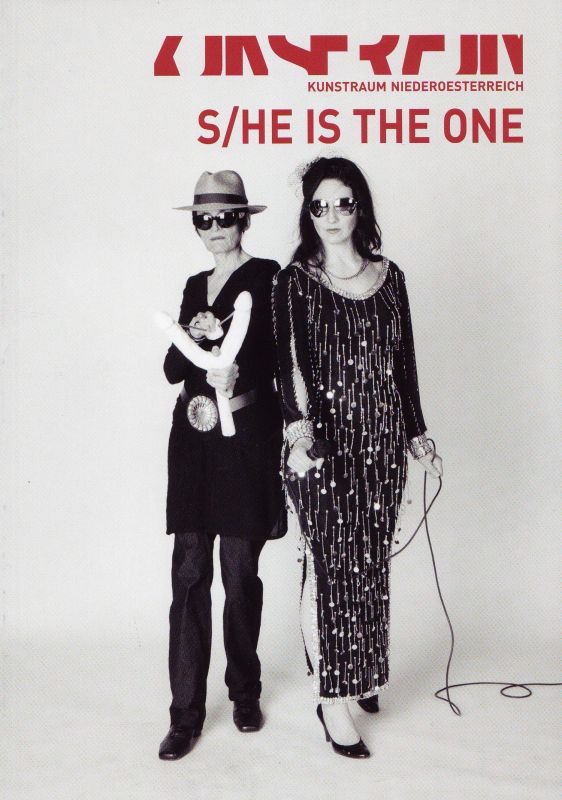 Article Number: 5571
Soft Cover,
German
, Thread Stitching, 64 Pages, 2013, Kunstraum Niederösterreich
S/HE IS THE ONE
€ 10.00
Die Ausstellung "S/HE IS THE ONE" widmet sich aktuellen performativen künstlerischen Praktiken, Embodyment-Strategien und deren Artikulation in verschiedenen Medien in Gegenüberstellung zu historischen Positionen der Performancekunst. Wie wird durch Performances eine andere oder neue Erlebbarkeit von Welt produziert? Wie gelangen dabei Methoden der Appropriation, Dekonstruktion, Konstruktion, Reformulierung, Transposition oder der Übersetzung zum Einsatz? Wie sehr dient die Performance als Mittel in der Kunst, um politische, feministische Fragestellungen oder die Rolle der Autorschaft in direkter Konfrontation mit dem Publikum zu artikulieren?
Der Kunstraum Niederoesterreich versteht sich als offener Raum für Gegenwartskunst. Im Zentrum steht die Ausstellung als eine Form der Begegnung mit junger Kunst. Ziel ist es, neue Zugänge zu öffnen und im Experiment zu erproben.
Die von der KünstlerInnengruppe "Plinque" zusammengestellte Schau "Elastic Video" vereint Arbeiten, die mit einem erweiterten Videobegriff operieren, und integriert in Anlehnung an die filmische Praxis des Expanded Cinema auch Videoskulpturen, ortsbezogene Videomontagen und Videoinstallationen. Die Einzelausstellung "When thought becomes matter and matter turns into thought" im Sommer 2013 ist dem jungen niederösterreichischen Kulturpreisträger Nikolaus Gansterer gewidmet. Anhand verschiedener Versuchsanordnungen spürt er den essentiellen Abläufen des Bewusstseins zwischen Erkennen und Benennen nach.
Seit fünf Jahren zeichnet der Kunstraum Niederoesterreich mit dem H13 jährlich eine herausragende Position der österreichischen Performance aus. Im Jahr 2013 wird ein Schwerpunkt auf dieses vielfältige und zugleich vergängliche Medium der zeitgenössischen Kunst gelegt und eine Veranstaltungsreihe mit Performances gestartet. Die Ausstellung " She is the One" im Herbst widmet sich der Auseinandersetzung mit performativen, künstlerischen Methoden und Praktiken in Gegenüberstellung zu historischen Positionen der Performancekunst.
Quelle: www.lac.coop/institutionen/kunstraum-niederoesterreich