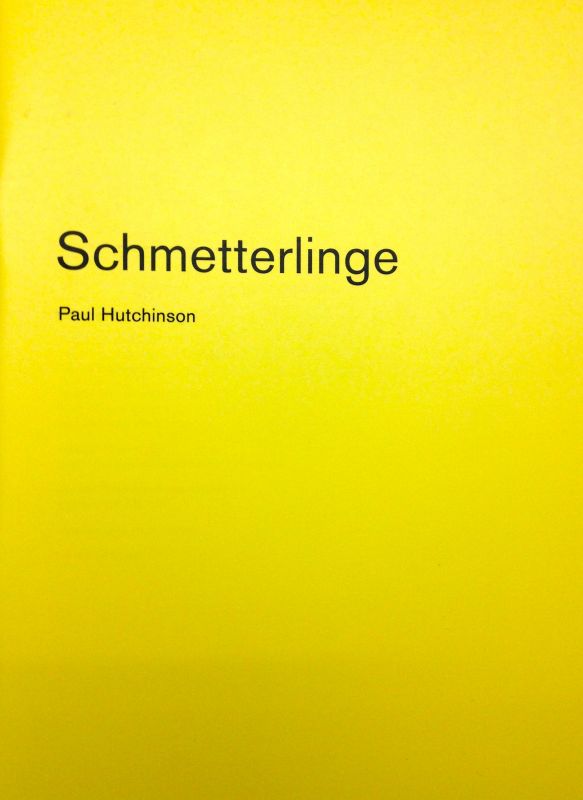 Article Number: 9614
Soft Cover,
English
, Staple Binding, 48 Pages, 2016,
The Green Box
, ISBN 978-3-941644-46-5
Schmetterlinge
€ 10.00
Schmetterlinge ist nach Wildlife Photography der zweite Band in einer Reihe kleinformatiger Publikationen von Paul Hutchinson, die er mit The Green Box entwickelt hat.
In ihnen setzt sich Hutchinson mit Situationen und Gegebenheiten auseinander, die vermeintlich banal, für den Künstler jedoch von eigenartiger Besonderheit und Bedeutung sind.
Inspiriert von der magischen Realität der Schmetterlinge inmitten grauer Strukturen der städtischen Räume Ostasiens, kreiert Hutchinson in seinen Bildern eine absurd anmutende Schönheit, die darüber wundern lässt, wo die Grenze zwischen Fiktion und Wirklichkeit verläuft. Wir sehen Schmetterlinge umgeben von Pflanzen und abstrakten Strukturen, collagiert mit Manga-Motiven und QR-Codes, neben Zigaretten, iPhones und Plastikflaschen. Durch bewusstes Spielen mit der Bildgestaltung legt Hutchinson hierbei einen Raum frei um dieses wohlbekannte Sujet neu zu deuten. Die durch performative Prozesse entstandenen Bilder evozieren eine individuelle Form der Ästhetik und zeugen von dem poetisch-urbanen Lebensgefühl, das sich durch Hutchinsons Arbeit zieht.
Sprache: Englisch