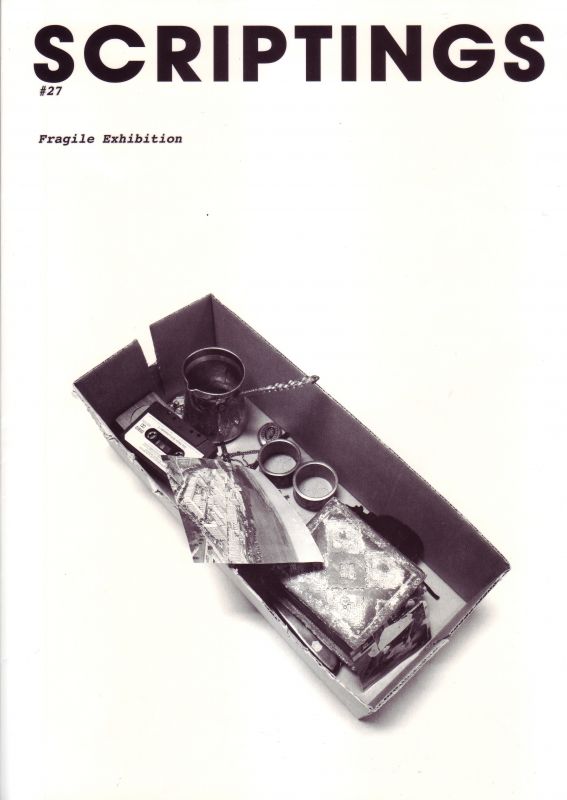 Article Number: 5045
Soft Cover,
German
, Staple Binding, 2013, muthesius
Scriptings 27: Fragile Exhibition
€ 10.00
Die Ausgabe entstand im Rahmen eines Workshops mit dem Künstler Achim Lengerer mit Beiträgen von Geela Eden, Katrin Grimm, Eva Hartmann, Alexandra Haase, Nadja Haase, Jonas Hasselmann, Catharina Hoops, Marleen Krallmann, Max Kühl, Charlotte Ladiges, Elina Martian, Omar Nicolas, André Offenhammer, Jakob Runge, Björn Schmidt, Selina Schnetger, Evelyn Solinski, Jan-Peter Thiemann.
Fragile: zerbrechlich, fragil, anfällig, aber auch schwach, so übersetzt sich das englische Wort ins Deutsche. Eine schwache Ausstellung, so hört man gerne als Negativkritik. Scriptings #27: Zerbrechlichkeit ist erwünscht. Forcierte Schwäche, Anfälligkeit, die entsteht durch ein Arbeiten in zwei Bereichen, durch eine Bewegung zwischen zwei Räumen. K(ein) fester Standpunkt. Eine Bewegung, idealerweise hinübergleitend von einem ins andere ... on and on.
Arbeitsmodul und Grundlage ist hierbei das Magazin Scriptings, dessen Ausgabe #27 mit Beiträgen der Student_innen während der Workshopzeit inhaltlich gestaltet, diskutiert und gedruckt werden soll. Gleichzeitig soll Scriptings#27 als Ausstellungformat gedacht werden - Fragile Exhibition. Das zeitgleiche Entstehen der Ausstellung und des Magazins bildet den konzeptionellen Rahmen des Workshops und wirft gewollte Fragen auf: Wie unterscheiden sich die Formate, wie kann sich ein Format in ein anderes hineinweben, wie dokumentiert sich ein Format im anderen (ohne hierarchisch z.B. die Publikation "nur" die Dokumentation der Ausstellung sein zu lassen)? Zusätzlich stellen sich Fragen nach den verschiedenen "Räumlichkeiten" von Magazin und Ausstellung und den damit verbundenen Öffentlichkeiten.
Achim Lengerer
lebt als Künstler in Berlin und Amsterdam. In seiner Arbeit beschäftigt er sich mit sprachbezogenen Fragestellungen, die er in Performances oder Rauminstallationen thematisiert. Seit 2009 betreibt er den mobilen Ausstellungsraum und Verlag Scriptings. Scriptings funktioniert als diskursive Plattform, ergänzend und parallel zu Lengerers Soloprojekten. Künstler_innen, Autor_innen, Grafikdesigner_innen, Performer_innen ebenso wie Verleger_innen werden zur Teilnahme eingeladen – all jene also, die sich in ihren jeweiligen Arbeiten den Formaten »Skript« und »Text« bedienen. Momentan arbeitet Lengerer an seinem PhD-Projekt Rehearsal Behaviour Transposed to Performance am Goldsmiths, University London, UK, zum Verhältnis von Stimme, Notation und Live-Performance.
Quelle: Verlag