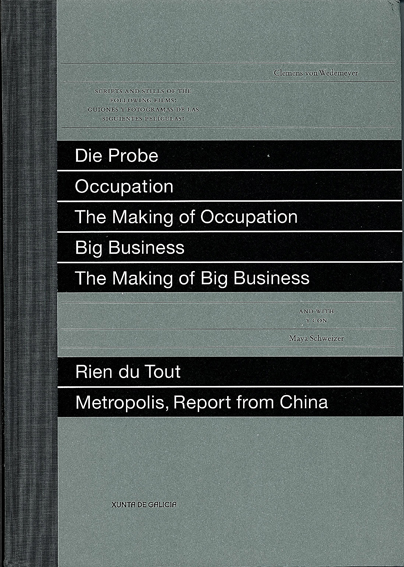 Seven Films
Die Probe/ Occupation/ The making of occupation/ Big Business/ The making of Big Business/ Rien de Tout/ Metropolis, Report from China
€ 26.30
This book contains visual and written information on 7 films. (English, Spanish)
Monography published by Xunta galicia, Conselleria de Cultura e Turismo, Centro Galego de Arte Contemporanea in collaboration with Spector Books, Leipzig.
This book presents seven films by Clemens von Wedemeyer: Die probe, Occupation, The making of Occupation, Big Business, Rien du tout (with Maya Schweizer), Metropolis, report from China (with maya Schweizer)

Clemens von Wedemeyer was born in Göttingen, Germany, in 1974. He studied Fine Arts at the Academy of Visual Arts of Leipzig (prof. Astrid Klein). He received numerous international awards including the Kunstpreis der Böttcherstrasse in Bremen, Germany (2005), the VG Bildkunst Award for Experimental Film and Video–art, Munich Film Festival, Germany (2002), the Marion Ermer Prize, Leipzig (2002).
He lives and works in Berlin and Leipzig, Germany.