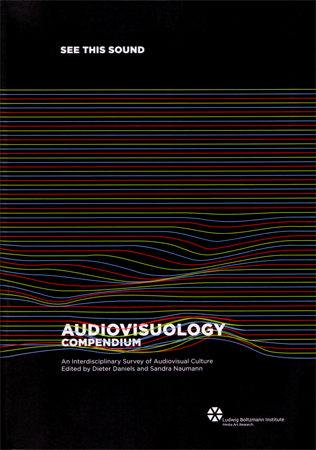 See this sound
Audiovisuology compendium
(English) Dieses umfangreiche Kompendium versammelt Texte zu verschiedenen Kunstformen, in denen Ton-Bild-Relationen eine signifikante Rolle spielen, oder zu Verfahren zur Verknüpfung von akustischen und visuellen Phänomenen.
Das gesamte Spektrum der audiovisuellen Künste und Phänomene wird durch historische Längsschnitte und systematische Querschnitte in 35 Lexikoneinträgen dargestellt. Übergreifende Themen werden anhand von längeren Essays vertieft. Auf der Werkebene werden exemplarische Beispiele audiovisuell dokumentiert sowie wissenschaftlich kommentiert. Die Liste der Begriffe und Themenfelder, zu denen herausragende Autoren schreiben, reicht von Gesamtkunstwerk, Malerei, Musiktheater, Aminationsfi lm, Light Shows, Filmmusik, Expanded Cinema, Musikvideo, Klangkunst oder interaktive Kunst bis hin zu Farbe-Ton-Analogien, Synchronisation, elektronische Transformation oder Software.
This all-embracing compendium brings together texts on various art forms in which the relationship between sound and image plays a signifi cant role and the techniques used in linking the two. The entire spectrum of audiovisual art and phenomena is presented in 35 dictionary entries. Overarching issues are explored deeply in thorough essays and individual works are represented in audiovisual documentation and scientific comment. The list of definitions and terms, elucidated by various prominent authors, ranges from Gesamtkunstwerk, literature, painting, music theatre, animation fi lm, light shows, music videos, sound art and expanded cinema right up to text-image analogies, synchronisation, electronic transformation and software.