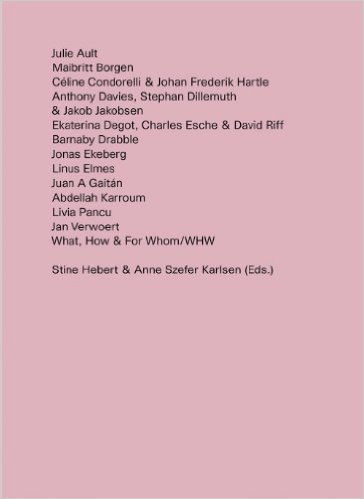 Article Number: 8244
Soft Cover,
English
, Thread Stiching, 163 Pages, 2013
SELF-ORGANISED
Occasional Table
availability unknown, if interested please write an email
The current economic situation and society's low confidence in its institutions demands that artists become more imaginative in their self-organization.
If labels such as 'alternative, ' 'non-profit' and 'artist-run' dominated the self-organized art scene of the late nineties, the separatist position implied by the use of these terms has been moderated during the intervening years.
This new anthology of accounts from the frontline includes contributions by artist practitioners as well as their institutional counterparts providing a fascinating account of the art world as a matrix of positions where the balance of power and productivity constantly shifts. Artists, curators and critics discuss empirical and theoretical approaches from Europe, Africa and South and North America on how self-organization today oscillates between the self and the group, self-imposed bureaucratization and flexibility, aestheticization and activism.
Language: English