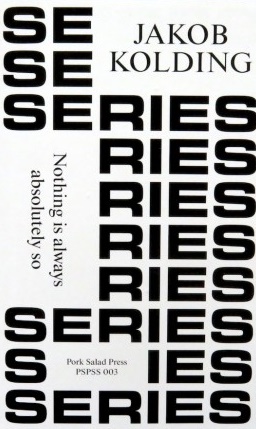 Article Number: 7462
Soft Cover,
English
, Glue Binding, 63 Pages, 2015
Series Series 003: Jakob Kolding
Nothing is always absolutely so
availability unknown, if interested please write an email
Series Series is a series of interviews between a contemporary artist and curator Jacob Fabricius.
Series Series is a casual conversation about work and life. The interviews are conducted through emails, text messages and meetings, and illustrated with images chosen by the artist.
Jakob Kolding was born in 1971 in the suburb of Albertslund, where he spent his childhood and youth before moving to Copenhagen. Since 2002 he has lived and worked in Berlin.
Language: English