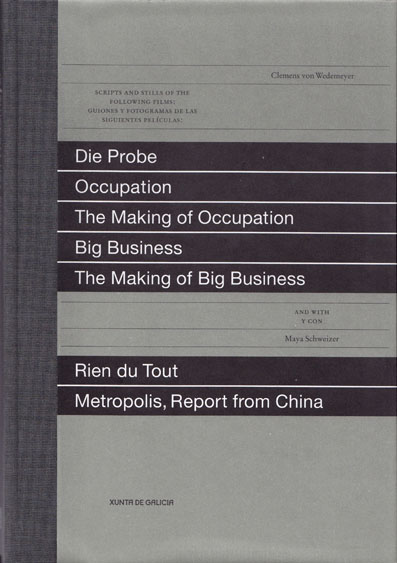 Article Number: 7418
Hard Cover,
English
, Thread Stiching, 132 Pages, 2010,
Spector Books
, ISBN 978-84-453-4818-5
Seven Films
Die Probe, Occupation, The Making of Occupation, Big Business, The Making of Big Business
€ 24.70
»Seven Films« versammelt sieben Filme von Clemens von Wedemeyer, die von 2001 bis 2008 entstanden sind – zwei davon gemeinsam mit Maya Schweizer [268] (Metropolis, Report from China und Rien du tout).
Die Publikation überträgt eine Reihe der filmischen Arbeiten von Clemens von Wedemeyer in das Medium Buch. Jede Produktion ist durch eine schwarze Seite – im Film wäre es das Schwarzbild – getrennt. »Seven Films« vermittelt einen Einblick in die konzeptuellen Überlegungen des Künstlers, die meist um das Medium selbst kreisen wie in Occupation, wo er die Inszenierung von Massenszenen im Film unter die Lupe nimmt und in ein neues Arrangement einer Massenszene münden lässt. Als Referenzpunkt benutzt er dabei das Kino selbst.
»Das knappe Jahrzehnt seines Filmschaffens stellt vor allem eine Untersuchung der Geschichte des Mediums dar und gleichzeitig des filmischen Denkens, der Interpretation dieser Geschichte von einem theoretischen Standpunkt aus. Seine Arbeiten spielen mit dem Repertoire cinematografischer Formate, Genres und Sprachen, um einen kritischen Raum für seine Entscheidungen als Regisseur und die möglichen Perspektiven zu schaffen, die von den Zuschauern vor der Leinwand selbst eingenommen werden können.« (Manuel Segade in dem Buch) Sprache: Englisch / Spanisch