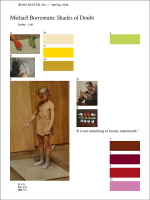 Shades of doubt "It is something of beauty underneath"
Mono.Kultur#31
€ 10.00
Als der belgische Künstler Michaël Borremans das erste Mal der Welt seine Gemälde präsentierte, in dem zarten Alter von 37, sorgte er umgehend für Aufregung in der Kunstwelt. Seine figurativen und doch abstrakten weil geheimnisvollen Bilder führen einen in das Zentrum einer offenen und unausgesprochenen Frage.
Mit seiner meisterhaften Technik, den bedeckten Farbtönen und klassischen Kompositionen, aber vielmehr noch mit den rätselhaften Szenerien seiner Bilder, verknüpft der Maler zwei Pole: Humor und Melancholie.
Repräsentiert von der berühmten David Zwirner Galerie in New York, stellt Borremans die moderne Inkarnation des klassischen Malers dar, in der gleichen Liga wie sein Freund Neo Rauch. Seit einiger Zeit übersetzt Borremans seine mysteriösen Bilder auch in abstrakte Kurzfilme, die u.a. während der Berlin Biennale 2006 gezeigt wurden. Borremans lebt und arbeitet in Ghent.