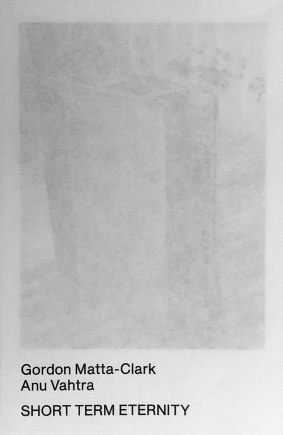 Article Number: 12196
Soft Cover,
English
, Thread Stitching, 248 Pages, 2021
Short Term Eternity
€ 16.80
"Short Term Eternity" brings together two artists – Gordon Matta-Clark (1943–1978, USA) and Anu Vahtra (1982, Estonia) – whose practices are related to each other in many ways, even if they are born in different times and locations. The aim of the book is not
just to compare their work, but to describe the circling of ideas and strategies in the art world from a non-hierarchical perspective. The book is published on the occasion of "Gordon Matta-Clark: Anarchitect. Anu Vahtra: Completion through removal", an exhibition in the Kumu Art Museum in Tallinn, February 22 – June 8, 2019, organised in cooperation between the Bronx Museum of the Arts and the Kumu Art Museum, curated by Sergio Bessa, Jessamyn Fiore, and Anu Allas.