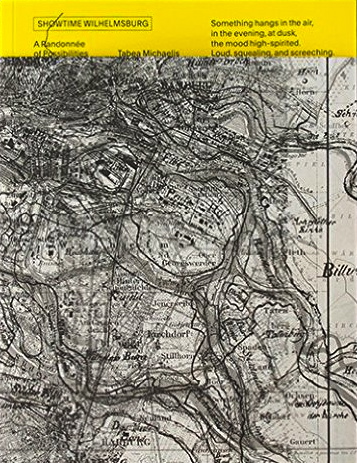 Showtime Wilhelmsburg: A Randonnée of Posibilities
Texte: Bernd Kniess and Tabea Michaelis
€ 24.60
Etwas liegt in der Luft. Abends bei Dämmerung, die Stimmung ist aufgedreht. Laut und quietschend.
In einem virtuellen Dialog mit dem französischen Soziologen Bruno Latour und dem Philosophen Michel Serres begibt sich Tabea Michaelis auf eine "randonnée" über die Elbinseln von Wilhelmsburg und beobachtet das alltägliche Zusammenspiel zahlreicher menschlicher und nicht-menschlicher Akteure aus der Perspektive der "Akteur-Netzwerk Theorie" (ANT). Tätowierte Sportautos im Hafengebiet, leere Sonnen-blumenkernhülsen unter Parkbänken oder die individuellen Gebrauchsweisen von Balkonen in Grosswohnsiedlungen hält sie in Texten, Fotografien, Open-Ended-Stories und Zeichnungen fest. Im iterativen Kodierverfahren der "Grounded Theory" bildet Tabea Michaelis schließlich zweiunddreißig konzeptuelle Begriffe, die das Programm des Möglichkeitsraums auf analytisch-poetische Weise widerspiegeln. Es ist ein Buch, welches nicht nur unzählige Episoden einer "randonnée" als diagramatischen Katalog zueinander führt, sondern mit seiner Methodologie eine neue Perspektive auf Stadt eröffnet.
Die UD-Reihe wird herausgegeben von Bernd Kniess, Urban Design, HafenCity Universität Hamburg.
Something hangs in the air,
in the evening, at dusk, the mood high-spirited.
Loud, squealing and screeching.
Engaging in a virtual dialogue with French sociologist Bruno Latour and philosopher Michel Serres, Tabea Michaelis sets off on a "randonnée" around the Wilhelmsburg Elbe Islands and observes the everyday interactions of umpteen human and non-human actors from the perspective of Actor-Network Theory (ANT). In texts, photographs, open-ended stories, and drawings, she records tattooed sports cars in the port area, empty sunflower seed kernels under park benches and individual balcony usages in large housing estates. Using the iterative coding method of Grounded Theory, Tabea Michaelis ultimately devises thirty-two conceptual terms that form an analytical/poetic reflection of the program of a space of possibilities. Moving beyond simply bringing together countless episodes of a "randonnée" as a diagrammatical catalog, thanks to its methodology this book opens up a new perspective on the city.
The series UD is edited by Bernd Kniess, Urban Design, HafenCity Universität Hamburg.
Sprache: Deutsch/English