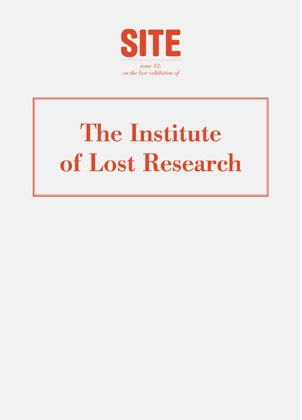 Article Number: 11193
Soft Cover,
German
, Thread Stiching, 160 Pages, 2010, ISBN 978-3-941559-19-6
SITE 12: The Institute of Lost Research
SITEmagazine first published in 1999, in Düsseldorf Germany. It's ambition is to but in the world of media, publication, interpretation and contextualization.
Its collaborative, interdisciplinary nature which goes beyond individual artists studio practice is from great value to the publishers. SITEmagazine is not a review magazine. It is rather an exhibition in printed format. SITEmagazine compiles contributions which should be approached as artworks. Each issue adds to the ongoing series of publications. No issue is ever out of date. Since SITEmagazine 11 we are cooperating with guest artists/editors to curate an individual issue. For the distribution of the magazines SITE is making use of existing international paths of printed matter distribution to get spreaded out worldwide. But also it is an ongoing topic to be creative about new strategies distributing SITEmaterial.
Sprache: Deutsch, Englisch