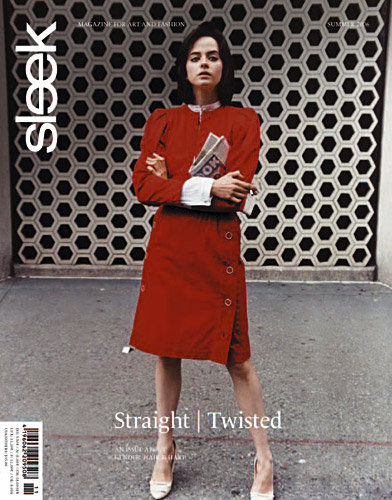 Article Number: 9178
Soft Cover,
German
, Glue Binding, 226 Pages, 2006
Sleek Magazine for Art and Fashion 11
Straight / Twisted. An issue about gender, hair and hare
availability unknown, if interested please write an email
"Man könnte uns vorwerfen, den "straighten" Teil des Themas unserer Sommerausgabe – "Straight | Twisted" – zugunsten einer unmotivierten, aber aufmerksamkeitsstarken Ansammlung von Merkwürdigkeiten vernachlässigt zu haben, die alle irgendwie "twisted" sind.
Und tatsächlich erscheint auf den ersten Blick oft als "twisted", was sich erst auf den zweiten als "straight" erweist, und umgekehrt. Das beweist der komplexe Lebensweg von AA Bronson, dem einzig Überlebenden der Künstlergruppe General Idea, genauso wie Elena Dorfmans Dokumentation über Sexpuppen als Familienmitglieder. Das zeigt sich in Thomas Weisskopfs Portraits von Menschen zwischen den Geschlechtern so wie in Risk Hazekamps Inszenierungen von Rollenbrüchen. Und selbst die geradlinigsten 9 to 5-Arbeiterinnen winden sich aus dem Sekretärinnencliché, in dem Photographin Melodie McDaniel sie inszeniert, ohne je ihren "straighten" look zu vernachlässigen.
Auch in formaler Hinsicht ist die Sache nur auf den ersten Blick einfach: Beim Versuch, eine gerade Linie zu ziehen, zittern Künstlern die Hände, und Haare vollständig zu glätten, ist unmöglich. Stricken ist formal gesehen eine Aneinanderreihung von harmlosen Twists. Was aber, wenn man wie Chrystl Rijkeboer mit Menschenhaar strickt?
Straight kann twisted sein, und twisted straight, je nachdem, wie Sie es sehen – bzw. blättern wollen: If you want to become straight, first let yourself become twisted...
Sprache: Englisch und Deutsch