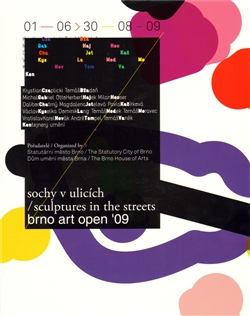 Article Number: 6695
Soft Cover,
German
, Glue Binding, 2009
sochy v ulicích - sculptures in the streets
Brno Art Open '09
availability unknown, if interested please write an email
An Overview of contemporary Czech and international art in public space.
The second year of the exhibition features an art collection which is represented by varied styles of art intervention into the public space – sculpture creation, site specific installation, performance and other.
The goal of the project is both to accent and amplify a unique character of the chosen localities in the centre of the town and consequently create a discussion about their urban forms. At the same time the issue of visual art functions within the public spaces of the city should be systematically evolved. A second aim is to provide direct contact between passers-by and a work of art, which will now be situated in the open space of the city, out with the walls of museums and galleries. The artists taking part were chosen by the Brno Art Open council who selected such projects which directly relate to the spacial or social cultural context.

Projects by Czech and foreign artists are being presented. Among them are Krystian Czaplicki, Tomáš Džadon, Michal Gabriel, Otto Herbert Hajek, Milan Houser , DaliborChatrný , MagdalenaJetelová, PavlaKacírková , Václav Kyselka, Dominik Lang, Tomáš Medek, Tomáš Moravec, Vratislav Karel Novák, André Tempel and Tomáš Vanek.

The photographic catalogue contains both photographic documentation of the projects and the unique process of the installations accompanied by a textual part by the exhibition organisers, art lecturers and comments of the featured artists.