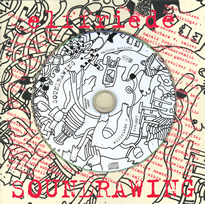 Article Number: 4529
Book with medium,
Dutch
, Staple Binding, 32 Pages, 2007,
Soundrawing
various artists
€ 80.00
These 34 pieces have been mastered by martin siewert and are now published on the CD 'soundrawing' on www.transacoustic-research.com together with a booklet, which elffriede produced in cooperation with knust/extrapool (nijmegen): 36 pages in the size of a 7'-inch single cram-full with elffriedes fascinating drawings and poetry in german & dutch. a very exclusive product in a limited edition of 500 copies.
" Ein Bild wird eine hörbare Zeichnung, ein Klang wird sichtbares Zeichen/ zeichnen. Zeichnung und Klang setzen eine Bewegung. Klang reagiert auf Zeichnung, Zeichnung und Klang werden filmisch umgesetzt, eins ergibt das Andere, beides ergibt etwas neues = meine Motivation für das Projekt: zeichnen als intermediale und internationale Kommunikation und Mediation. "Aufzeichnen" ist nicht "Aufzeichnung". Während die " Aufzeichnung" ein fertiges Produkt darstellt, ist mit dem "Aufzeichnen" nicht zwingend ein zu erreichendes Resultat verbunden, ist sogar die Verweigerung einer Darstellung möglich; im "Aufzeichnen" manifestiert sich eine aktive Tätigkeit als Fortentwicklung und Suche. Darauf angelegt ist der Name elffriede.aufzeichensysteme: Kunst ist weder zweckorientiert noch Selbstzweck, sondern dauernder Forschungsgegenstand und dynamischer Entwicklungsprozess, der durch künstlerischen Austausch und Zusammenarbeit sichtbar wird." elffriede.
drawings by elffriede
sounds by andré goncalves, ara (arno raffeiner), arno splinks, audun eriksen, barbara v. kaiser, bernadette reiter, billy roisz, brandstifter, das fröhliche wohnzimmer (ilsi kilic, fritz widhalm), dirk hülstrunk, edda strobl,eintagsfliegenakrobatik (grit ruhland) & konrad behr, grünrekorder (roland etzin, lasse-marc rieck), hannes raffaseder, harald homolka-list, hitoshi kojo, incite (kera nagel, andré aspelmeier), jelle meander, john grzinich, jörg piringer,jörg zemmler, maksims shentelevs, mariella greil & werner möbius, matthias meinharter, murmer, nikolaus gansterer, phill niblock, revolver dog (doris prlic), riho kall & mari kalkun & ivan sergejev, runtofall, sergej mohntau (jürgen berlakovich, thomas pfeffer), ulrich troyer, verena brückner & florian kmet, wolfgang fuchs
in dutch and german