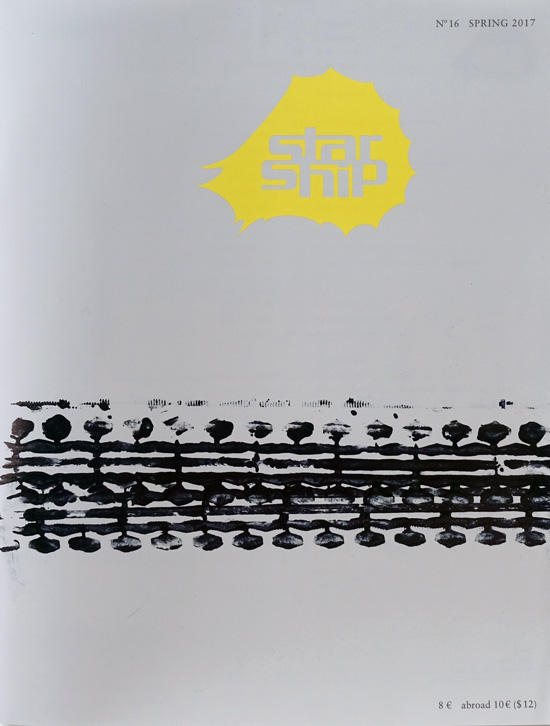 Article Number: 10041
Magazine,
English
, Staple Binding, 126 Pages, 2017
Starship Nr. 16 Spring 2017
€ 10.00
Ausgabe 16 der Kunstzeitschrift Starship, die seit 1998 in Berlin erscheint.
Contributors to Starship 16: Søren Andreasen, John Allan MacLean, Tenzing Barshee, John Beeson, Leo Bersani, Gerry Bibby, Matt Billings, Kaucyila Brooke with Vickie Aravindhan, Louis Coy, Boz David, Jennifer Green, Blake Jacobsen, Tyler Lumm, Giselle Morgan, Ace Shi, AJ Strout, and Josh Winklholfer, Mercedes Bunz, David Bussel, Octavia E. Butler, Bonnie Camplin, Leidy Churchman, Eric D. Clark, Jay Chung, Hans-Christian Dany, Katja Diefenbach, Nikola Dietrich, Francesca Drechsler, Martin Ebner, Sokol Ferizi, Stephanie Fezer, Julian Göthe, Michèle Graf, Selina Grüter, Karl Holmqvist, Cornelia Herfurtner, Nadira Husain, David Iselin-Ricketts, Monika Kalinauskaite, Heinz Peter Knes, Jakob Kolding, Michael Krebber, Klara Liden, Q Takeki Maeda, Robert McKenzie, Robert Meijer, Ariane Müller, Christopher Müller, Henrik Olesen, Mark von Schlegell, Dan Solbach, Natasha Soobramanien, Katrin Trüstedt, Evelyn Taocheng Wang, Scott C. Weaver, Luke Williams, Amelie von Wulffen, Florian Zeyfang.
Sprache: Englisch