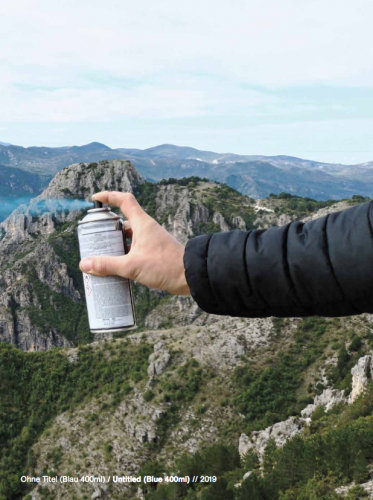 Stefan Riebel 1982–2020
€ 24.00
A catalogue as reader: the enclosed texts describe the nearly one hundred works the artist produced through the year 2020 under the name "Stefan Riebel";* these texts, however, are autonomous pieces of writing ** in their own right.
There are no images in this book, only one work each is printed on the dust jacket. The texts move freely between art, popular culture, and politics, referencing one another and the other artistic works described. In the process, they introduce each of the pieces—large and small, long in the planning or ephemeral, complex or quickly improvised—in the same way. Oscillating between Borgesian library labyrinth and a set of instructions for enacting works of (expressive) conceptual art, the book is an invitation to lose one's way in its pages and to pursue its various paths.
* The year 2020 marks a turning point: the artist relinquishes his name and begins a new phase in his work.
** In Boccaccio's Decamerone, a group of young people flees the plague for the countryside, where they tell stories to one another to pass the time. After delivering ten sets of ten stories, they return to Florence. The way the present book came about bears certain similarities: artist and author met regularly throughout the Corona years of 2020/21 (in person, on the phone, or via video call) to talk about the works and to combine them with stories instead of pictures. Text: Valie Djordjević Translation: Andrea Scrima
With an introductory text by Franz Thalmair.
--
Ein Katalog als Lesebuch. Die Texte beschreiben die fast einhundert Arbeiten, die der Künstler bis 2020 unter dem Namen "Stefan Riebel"* entwickelt hat. Sie sind aber auch eigenständige Textarbeiten**, die alleine für sich stehen. Bilder gibt es in dem Buch nicht, aber eine der Arbeiten ist jeweils auf einem Schutzumschlag abgebildet. Die Texte pendeln frei zwischen Kunst, Popkultur, und Politik. Sie verweisen aufeinander und auf andere künstlerische Werke. Dabei stellen sie die großen und kleinen, lang geplanten und flüchtigen, aufwendigen und dahingeworfenen Arbeiten auf gleiche Weise vor. Zwischen Borges'schem Bibliothekslabyrinth und den Handlungsanweisungen der (expressiven) Konzeptkunst lädt das Buch ein, sich in den Seiten zu verlaufen und die Fäden weiterzuverfolgen.
* Das Jahr 2020 markiert einen Einschnitt: Der Künstler gibt seinen Namen auf und beginnt einen neuen Arbeitsabschnitt.
** In Boccaccios Decamerone flüchtet eine Gruppe von jungen Menschen aufs Land, um sich vor der Pest zu retten. Dort erzählen sie sich Geschichten, damit die Zeit schneller vergeht. Nach zehn mal zehn Geschichten kehren sie wieder nach Florenz zurück. Die Entstehung dieses Buches weist Ähnlichkeiten auf: Der Künstler und die Autorin treffen sich in den Coronajahren 2020/21 regelmäßig (in Person, telefonisch oder per Videocall), um über die Arbeiten zu sprechen und sie mit Geschichten statt mit Bildern zu vermischen. Text: Valie Djordjević
Mit einem Text von Franz Thalmair.
Einführung / Introduction: Franz Thalmair
Texte / Texts: Valie Djordjevic
Übersetzung / Translation: Andrea Scrima
Lektorat / Proofreading: Jette Anders, Gerald Riebel, Sabine Riebel
Bilder / Images: Anne Bar Yosef, Elisa Daubner, Michael Ehritt, Mitsu Hadeishi, Tash Kahn, Ulrich Kehrer, Christin Lahr, Alana Lake, Helen Lubin, Paul Werther, Gestaltung / Design: Studio Karpstein & undFreunde

Auflage / Edition: 500
Papier / Paper: Design Offset
Druck / Print: Druckhaus Sportflieger

www.stefanriebel.de http://un.titled.be

© 2022 & Revolver
Alle Rechte vorbehalten. Abdruck (auch auszugsweise) nur nach ausdrücklicher Genehmigung durch den Verlag. All rights reserved. Reprints (including excerpts) require the written permission of the publisher.