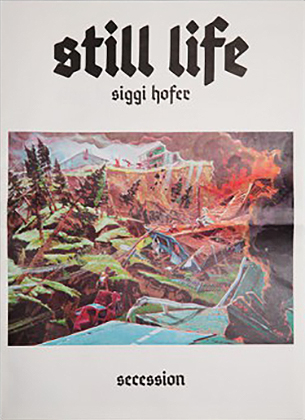 still life
€ 126.40
"I wanted a newspaper, the picture in my head was of someone slapping a fat stack of paper on the table in front of you, in your face, saying: Right, now it's happened." (Siggi Hofer) The versatility that distinguishes Siggi Hofer's exhibitions is also evident in a publication accompanying his current
show at the Secession: still life, an artist's book in the form of a newspaper (the "Deutsch-Gotisch" typeface is a nod to the daily "Dolomiten," which the artist grew up reading) with literary writings by Hofer himself. They bring into focus the significance of autobiographical reflection—searching meditations on memory, childhood, identity, and emancipation—in his art. Alternating between sober-minded analysis and humor, the texts are unsparingly candid while leaving room for doubt.
One picture that reappears on the book's cover is a kind of secret key to it: a drawing from a children's encyclopedia that has Hofer spellbound even after decades. It is an apocalyptic scene, an illustration of the aftermath of an earthquake, with burning buildings and cars being swallowed up by the earth. The picture strikes a keynote that belies the show of playfulness: "Disaster strikes somewhere else"—but strike it does.
"Ich wollte eine Newspaper, ich hatte das Bild im Kopf, wie einem eine fette Zeitung auf den Tisch, vor die Nase geknallt wird mit den Worten: So, jetzt ist es passiert." (Siggi Hofer)
Siggi Hofers Vielseitigkeit zeigt sich nicht nur in seinen Ausstellungen, sondern auch in einer Publikation, die seine aktuelle Ausstellung in der Secession begleitet: still life, ein Künstlerbuch in Form einer Zeitung (die Schrifttype "Deutsch-Gotisch" bezieht sich auf die Tageszeitung "Dolomiten", mit der der Künstler aufgewachsen ist), in dem auch eigene literarische Texte veröffentlicht sind. In ihnen wird der Einfluss autobiografischer Reflexionen, der intensiven Auseinandersetzung mit Erinnerung, Kindheit, Identität und Emanzipation auf sein Werk am deutlichsten. Sie oszillieren zwischen nüchterner Analyse und Humor, sind schonungslos offen und lassen Raum für Zweifel.
Wie ein geheimer Schlüssel dazu ist ein Bild, das sich auf dem Cover des Buches wiederfindet: Es ist eine Grafik aus einem Kinderlexikon, das Hofer als Kind fasziniert und nie losgelassen hat. Es zeigt in einer apokalyptischen Szene die Folgen eines Erdbebens, brennende Häuser und Autos, die von der Erde verschlungen werden, und konstituiert einen Grundton, den eine vordergründige Verspieltheit zunächst nicht vermuten lassen würde: "Die Katastrophe findet woanders statt" – aber sie findet statt.