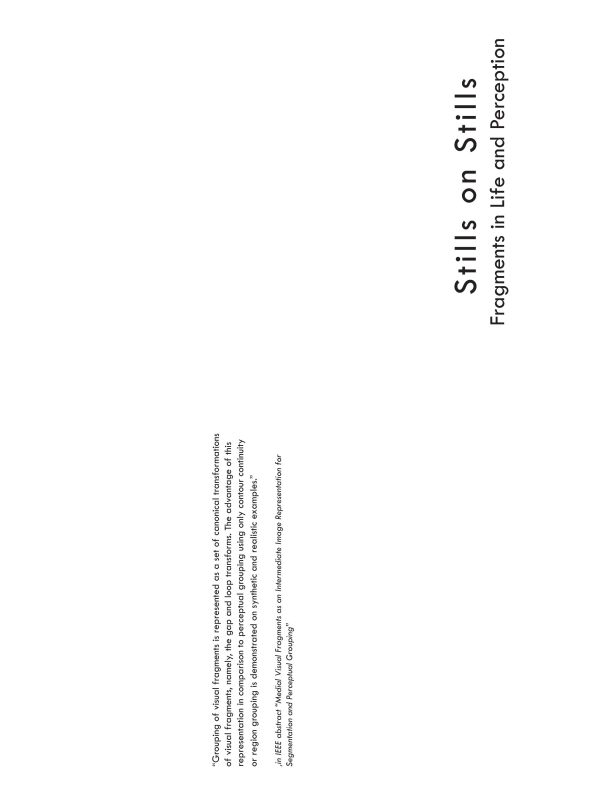 Article Number: 72
Hard Cover,
English
, Staple Binding, 144 Pages, 2008
Stills on Stills
Fragments in Life and Perception
availability unknown, if interested please write an email
This book was made as part of my photographic process. The city poses questions that sometimes by the simple capture of images of it are not answered.
I wasn't also very happy by the standardized way photography is seen and discussed nowadays. Pointless quarrels between analogic and digital, a dictatorship of deadpan supported by the market prices of photographers as Andreas Gurski... I think Photography, as a medium deserved more than following trends.
So this book is a open result - since it doesn't get to any specific conclusion, but led me to change my artistic practice and introduce new variables and challenges to the eye. The composition is entirely digital, but I seeked inspiration on the medium itself, creating also relationships with space and time.
Fragments were the "grain" or elementary component of the images I extracted. In a way it also made think on the way Architecture and Urban Planning draw a so called "reality". Through these fragments one can reconstruct the whole image of his surrounding reality, and each one has his own. In a way, I understood Architecture or the Cityscape as the basis for the collective social stage.
So this book is an exploratory concept.
Language: English