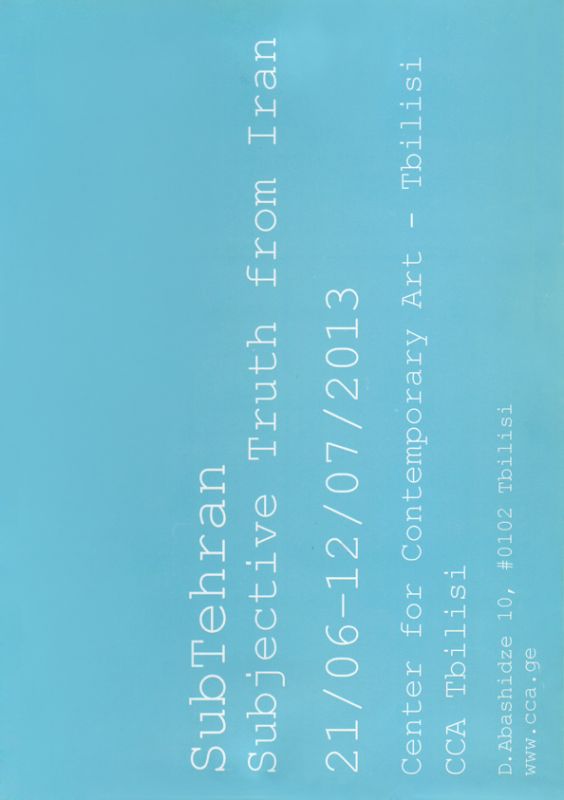 Article Number: 5326
English
, 3 Pages, 2013
SubTehran
Subjective Truth from Iran
Curated by Sohrab Kashani
Our past haunts the present. In Iran, we all cannot agree on the contemporaneity of our present; from an outsider's point of view, the art scene may appear a world within itself, apart from its social context. The truth is that at no point in our history of art, our artists have been closer to the issues that perplex and engage our society, more than today. The contemporary art scene is engaged and conscious of the struggles of our nation and artists in fact draw inspiration from a society, which is constantly in a state of flux. This exhibition attempts to bring out some of these contentions, a peephole into what we see and enjoy in Iranian contemporary art scene.

All the selected works reflect upon Iranian history and identity; these reflections are often confined to an autobiographic mode. An isolationist identity, constant fear of war, feminist outlooks, childish honesty, and political dilemma comprise the different stories, telling of the bewildering and strange times we live in, via unique visions of each of the artists.

Artists include Sasan Abri, Mehrdad Afsari, Maryam Amini, Mojtaba Amini, Yousha Bashir, Majid Biglari, Gohar Dashti, Samira Eskandarfar, Fatemeh Fakhraeimanesh, Negar Farajiani, Amirali Ghasemi, Sepanta Ghassemkhani, Barbad Golshiri, Farid Jafari Samarghandi, Alisia Maraseiee, Aliyar Rasti, Hamed Sahihi, Behrang Samadzadegan and Newsha Tavakolian.
Quelle: http://www.cca.ge