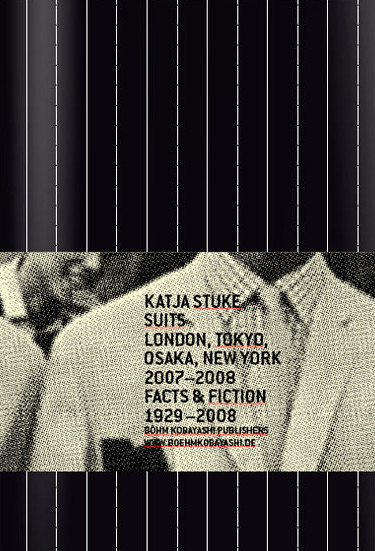 Article Number: 104
Hard Cover,
English
, Staple Binding, 106 Pages, 2008
Suits vs. Facts and Fiction
availability unknown, if interested please write an email
Stuke combines photographs and video grabs of men wearing business suits that explore the various conflicted impressions that business attire can create. (Engl.)
Suits vs. Facts and Fiction by Katja Stuke is a conceptual artist/photographer who has an interesting new artist book that I found in Paris through Markus Schaden entitled.
In a day and age where corporate bail-outs creates the supposition that the wealthy get off with a free pass when the economy collapses, it is understandable that much of the content here has a sinister edge cloaked in elegance.Stuke acts the part of a curator, gathering images from historical and contemporary sources, all of which have the common denominator of being designated as a "type." Images from films like Wall Street and even a Leonard Freed photograph of 1950's business men in Lower Manhattan keep us thinking of the continuous style and image of "business" while modern newspaper photos, blown-up to reveal the offset printed dot patterns seem to point at a darker vision.Suits is an inventive form for a book with 11 x 14 size images folded in half and inserted into one another. The whole assemblage is held together by a vertically running rubber band. This unique binding technique makes it possible to view only half of any image at a time, creating interesting and seemingly random connections between each page. By only presenting half of each photo you may experience seeing only a shoulder of one man on one page while a blown up video still shows an entire figure talking on a cellphone on the facing. Although Katja has assembled the book with thought, it is possible to slip the rubberband off and jumble the pages to create hundreds of possible pairings.Suits: London, Tokyo, Osaka, New York 2007-2008, Facts & Fiction 1929-2008 was published by Bohm Kobayashi Publishers in a very limited edition of only 150 copies. Each copy is numbered and comes with a thick belly/obi band that holds the book closed. (Jeffery Ladd/NY 2009)