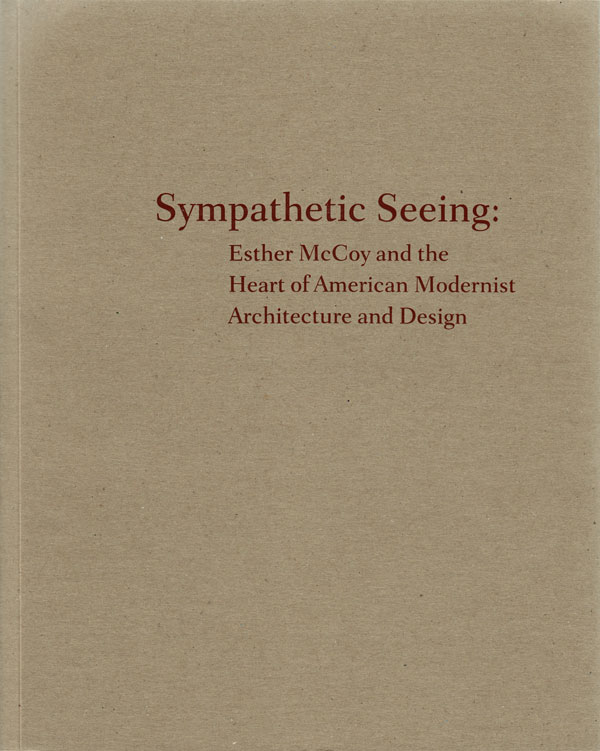 Article Number: 4980
Soft Cover,
German
, Glue Binding, 144 Pages, 2011
Sympathetic Seeing
Esther Mccoy and the Heart of American Modernist. Architecture and Design
€ 26.00
Der Katalog ist die erste Monografie über Leben und Werk der Architekturhistorikerin Esther McCoy und bestätigt deren unanfechtbare Rolle als Schlüsselfigur des amerikanischen Modernismus!
Esther McCoy wurde in Arkansas geboren und wuchs in Kansas auf. Während der 1920er-Jahre kam sie nach Greenwich Village, wo sie eine Art Anstellung (bzw. Ausbildung absolvierte) als »Schreiberin«[writer] bei dem US-Schriftsteller Theodore Dreiser bekam. 1932 zog sie nach Los Angeles und schrieb für Literaturmagazine und fortschrittliche, moderne Zeitungen. Nach einer Anstellung in der Konstruktionsabteilung der US-Company Douglas Aircraft wurde sie Zeichnerin im Büro des berühmten Architekten R. M. Schindler.
Ab 1945 widmete sich McCoy in ihren Schriften in erster Linie der Architektur. In den kommenden 40 Jahren befasste
Sie sich mit dem »vibrant character of West Coast modernism«. Ihre Schriften erschienen regelmäßig in der Los Angeles Times, in Arts & Architecture, in Zodiac, und Architectural Forum. 1960 gab McCoy ihr bahnbrechendes Buch »Five California Architects« heraus, das bis heute zu den wegweisenden Bü̈chern über die kalifornische
Architektur zählt.
Mit vielen Reprints und Auszügen aus McCoys Schriften sowie bislang unveröffentlichtem dokumentarischen Material aus dem Smithsonian Institution's Archives of American Art. Außerdem zahlreiche Fotografien, Zeichnungen, Texte, Videostills.
Text: Kimberli Meyer, Susan Morgan
Interviews mit: Makoto Shin Watanabe mit Ester McCoy
Sprache: Englisch