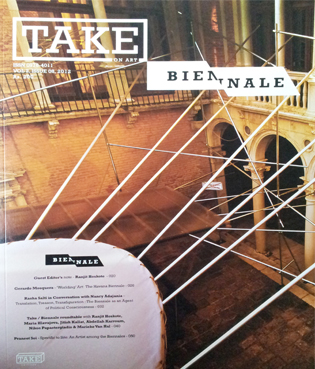 Article Number: 5717
Soft Cover,
English
, Thread Stiching, 127 Pages, 2012
Take On Art - Biennale
Volume 2, Issue 8, 2012
availability unknown, if interested please write an email
A quarterly publication on contemporary art with theme based issues in India and abroad.
TAKE on art is an art quarterly published from New Delhi. It caters to artists, art collectors, dealers, educators, students, historians, architects, film makers, poets, designers and museum curators wherein each issue promises to comprehensively publish reports and critiques on art and cultural events from India and abroad. TAKE addresses in a comprehensive and candid tone relevant issues encompa...ssing varied genres ranging from painting, photography and new media to the burgeoning art market, international fairs and changing art trends, both in India and abroad.

Being a theme-based publication, TAKE invites guest editors occasionally who hold expertise on various issues. 'TAKE - Black', the inaugural issue analyzed the conflicting aesthetics resonating with the metaphorical and surrealistic meaning of the word 'Black' – art that results out of the dialogical relations with the postmodern and the post colonial, gender, ephemerality and ubiquitous subjectivities and politics that have evolved within and without these frames. 'TAKE Gallery' focused on the role of galleries in and across the borders vis-à-vis the attitude adopted by them post-recession towards promotion/sales/support vis-à-vis artists and artworks while 'TAKE - Modern' revolved around the quotient of 'modern' in Indian art which is woven itself around some very potent and receptive expositions. For 'TAKE on art - Oeuvre', artist Sophie Ernst was the guest editor and invited contemporary artists from across the globe to use the pages as a blank canvas/screen, exploring their work; their idiom; their 'Oeuvre'. The fifth issue 'TAKE – Curation', guest edited by Vidya Shivadas and Natasha Ginwala, builds a chronological and art historical trajectory of 'exhibition-making' producing a textual and visual supplement that methodologically journeys through inspirations of the 'times – past, present, future', the changing and evolving meaning of the artist-curator relationship, rebellious and enduring narratives of the creative spirits and movements spun within the structure of this exhibition-making along with the experiments in contemporary curation that go beyond commercial strategizing.

TAKE on art hopes to shoulder a meaningful discourse in the recessionary times that Indian art is at the brink of today. Bombarded with economic, social and political uncertainties from every corner of the globe, the art world is still exploring the contradiction and conflicts between the traditional and the modern. TAKE envisions adopting a dynamic approach that will behoove its readers and the art community into a contextualized discussion fencing enquiries in a new direction.
Source: https://www.facebook.com/takeonartmagazine/info
Language: English