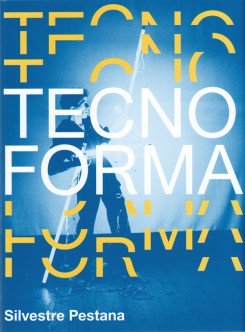 Article Number: 8995
Soft Cover,
English
, Thread Stiching, 50 Pages, 2016
Tecno Forma
availability unknown, if interested please write an email
The Serralves Museum of Contemporary Art presents the first major exhibition dedicated to Silvestre Pestana (1949, Madeira).
Over the last five decades, Pestana has built up singular work as a visual artist, poet and performer. First associated with a group of experimental poets in the 1960s, Pestana went on to become a pioneer of performance and video art in Portugal, whose under recognized work has presciently addressed the connections between technology and art — from early computing, to virtually reality and drones.

To accompany the exhibition, Serralves will publish a fully illustrated catalogue with new commissioned essays. António Preto offers a crucial insight on the influence of experimental poetry in Pestana's work, Verónica Metello gives an overview of the artist's career and Adam Kleinman adds a fresh perception around Pestana's works in relation to today's technologies and their social effects. The book also features a conversation with the artist conducted by curator João Ribas and artist Mauro Cerqueira that sheds light on Pestana's influences and processes.

Sprache: Englisch und Portugisisch