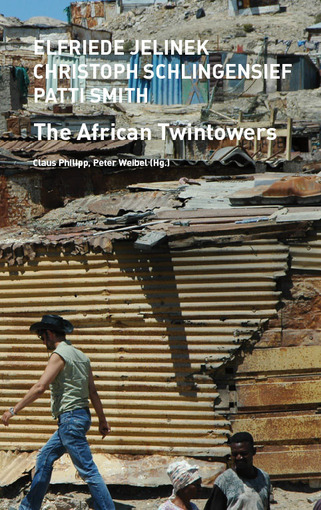 THE AFRICAN TWINTOWERS
€ 98.00
"The African Twintowers" by Christoph Schlingensief is the conclusion of a trilogy on the theme of "Slum" that Neue Galerie Graz started in autumn 2006. "The African Twintowers"; this hybrid of theatrical installation and cinema, is a powerful investigation of the African poverty crisis. The countries high daily mortality rate, resulting either from the cruel civil wars, hunger, or AIDS, can still be traced back to the aftermath of Western colonial policy.
Schlingensief's accounts of reality are extreme and loaded with actionistic dynamics. The simultaneity of the visual and acoustic impressions is mind-blowing, and through this he tries to capture reality. There are 18 different videos being played simultaneously, in a total of 300 hours of film. The observers have to find out for themselves what they deem important. The subjectivity of the artist is contrasted by
the subjectivity of the observer. Photos by Patti Smith show the connections to the events around the Twin Towers in New York on 09/11. A text by nobel prize winner Elfriede Jelinek who has been in close contact with Schlingensief for years, reveals the structural similiarity of her linguistic art and the media work of Schlingensief.
Mit "The African Twintowers" von Christoph Schlingensief vollendet die Neue Galerie Graz eine Trilogie zum Thema "Slum", die im Herbst 2006 begann. "The African Twintowers", dieses Hybrid aus Theaterinstallation und Kino, ist eine besonders intensive Durchdringung des Problems der Armut in Afrika. Die hohe Zahl der Menschen, die dort täglich sterben, sei es als Folge von grausamen Bürgerkriegen, sei es vor Hunger oder wegen AIDS, ist auf noch immer anhaltende Folgen der westlichen Kolonialpolitik zurückzuführen. Schlingensiefs Beschreibungen der Realität sind drastisch und mit aktionistischer Dynamik aufgeladen. Die Gleichzeitigkeit der visuellen und akustischen Eindrücke ist überwältigend und versucht so, an die Realität heranzukommen. Man muss sich aus den 18 verschiedenen gleichzeitig abgespielten Videos, insgesamt 300 Stunden Film, herausnehmen, was man brauchen kann. Der Subjektivität des Künstlers wird die Subjektivität des Betrachters gegenübergestellt. Mit Fotos von Patti Smith werden auch Bezüge zu den Ereignissen um die Twin Towers in New York am 11. 9. 2001 erkennbar. Ein Text von Nobelpreisträgerin Elfriede Jelinek, die mit Schlingensief seit Jahren in engem Kontakt steht, macht deutlich, dass deren Sprachkunst eine vergleichbare Struktur wie das mediale Werk Schlingensiefs aufweist.
Elfriede Jelinek - Christoph Schlingensief - Patti Smith: "The African Twintowers"
Claus Philipp, Peter Weibel (Hg.)
Neue Galerie Graz am Landesmuseum Johanneum, Graz 2008 Mit Texten von Elfriede Jelinek, Claus Philipp und Peter Weibel, durchgehend illustriert mit Fotos von Aino Laberenz, Claus Philipp und Patti Smith
136 Seiten