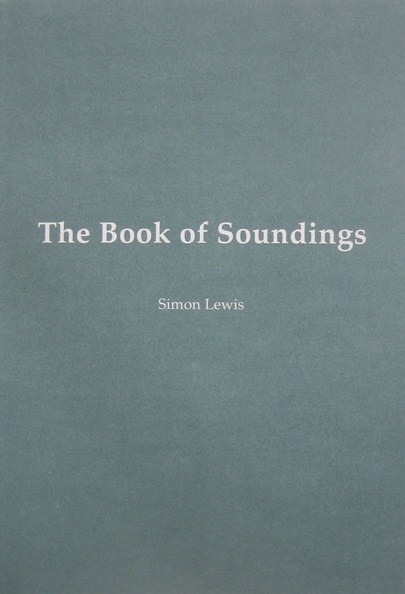 Article Number: 2358
Soft Cover,
German
, Thread Stiching, 96 Pages, 2005, GAK Gesellschaft für aktuelle Kunst Bremen
The Book of Soundings and Observances
€ 36.00
Simon Lewis: "The Book of Soundings" und "Observances" als zweibändige Künstlerpublikation im Schuber
Das zweibändige Künstlerbuch umfasst die 20teilige Serie der Zeichnungen "The Book of Soundings" des britischen Künstlers Simon Lewis sowie im zweiten Band dessen neueste, bisher unveröffentlichte Textarbeit "Observances".Mit dem Begriff des "sounding", der an ein Echolot erinnert, das Schallwellen wahrnimmt, umschreibt Lewis Simon Lewis sein Herangehen an die Umwelt: "Wenn man im Englischen den Begriff 'to take soundings' verwendet, bezieht man sich entweder auf das Einholen von Erkundigungen über eine Person bzw. eine Situation oder auf den Versuch, physische Eigenschaften und Begebenheiten in einem Gebiet, der Atmosphäre oder dem Meer zu bestimmen – mit Hilfsmitteln wie einem Unterwasserortungsgerät, einem Versuchsballon oder einem Bleilot. Wenn man etwas ortet, arbeitet man nicht direkt vor dem Objekt, sondern befindet sich entfernt davon. Man holt weder Proben von der physischen Umgebung, noch beschreibt man eine direkte Wahrnehmung. Es besteht eine räumliche Entfernung zwischen dem, was untersucht wird, und dem Untersuchenden. Die Ortungen in 'The Book of Soundings' haben ihren Ursprung weniger in geografischen Situationen, sondern in den Bereichen der Naturwissenschaften, der Kultur, der Politik etc. Obwohl die Zeichnungen von den genannten Bereichen inspiriert wurden, sind sie keineswegs eine Sammlung direkter Zitate oder Kommentare, die lediglich ausgewählt wurden, um dieses oder jenes aktuelle Thema hervorzuheben oder zu diskutieren. Die Zeichnungen sollen aus der Distanz dem Untersuchenden einen Freiraum schaffen, der sowohl der Imagination als auch dem kritischen Blick Raum gibt."
Die zweibändige Publikation im Schuber erscheint anlässlich der Ausstellung in der Gesellschaft für Aktuelle Kunst, Bremen: 26. Januar – 9. April 2007.