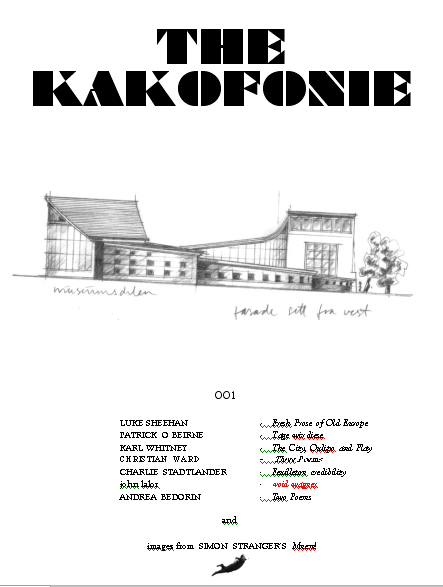 Article Number: 8
Hard Cover,
English
, Staple Binding, 27 Pages, 2009
The Kakofonie 001
On 27 November 1960 Yves Klein published his one day only newpaper Dimanche - Le Journal d'un Seul Jour, on the cover of which was his famous The Leap into the Void. (Engl.)
A work of montage, of conceptual art, a political statement and an artistic intervention into the everyday, Klein's Dimanche was indicative of many strands of art that have since come to dominance. Taking and breaking Klein's artist's publication, Broken Dimanche Press is interested in continuing the practice of artists editing newspapers, writers drawing out their visions and editors falling flat on their faces. Broken Dimanche Press is a non-profit publisher of fiction, poetry and politics. Growing out of the contemporary art initiative Parking Meter Press, Broken Dimanche has a European wide focus on considered experimental fiction and poetry and challenging political journalism. Every Broken Dimanche book is a special object in which visual artists and writers meet to create unique ekphrastic collaborations. Careful editorial preferences and a commitment to design prevail, as does a belief in translated works and the re-discovery of out of print works, all leading to a singular approach to navigating the debates and darker corners of contemporary European culture and thought.To this end, in November 2009, Broken Dimanche Press will publishYou Are Here, a cultural and political vade macum for Europe twenty years after the fall of the Berlin Wall, exploring as it will the meaning of a Europe without the Wall, a Europe full of activists, artists and thinkers who have come of age in a world where a divided Europe is just a childhood memory, distant, historical. Contributors from across Europe are to be included. At present some of the content will come from the likes of Ann Cotten, Ursala Wozniak, Volha Martynenka, Francesca Musiani, Christophe Van Gerrewey, Agnieszka Drotkiewicz plus many more.