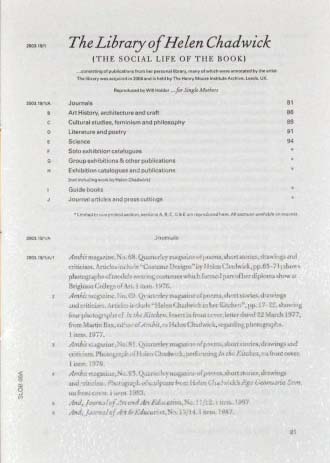 Article Number: 6710
Soft Cover,
English
, Thread Stiching, 16 Pages, 2015
The Library of Helen Chadwick
The 6th installment of the Social Life of the Book series is a section of the catalogue of publications from english conceptual artist Helen Chadwick's personal library, reproduced by Will Holder …for Single Mothers. The library was acquired in 2006 and is held by The Henry Moore Institute Archive, Leeds, UK. The Social Life of the Book is a collaboration between castillo/corrales, the EBABX – School of Higher Education in the Arts of Bordeaux (F), the Gerrit Rietveld Academie (NL), Amsterdam, San Serriffe, Amsterdam (NL), with the support of the Centre national des arts plastiques (aide à l'édition), ministère de la Culture et de la Communication (F).
Language: English