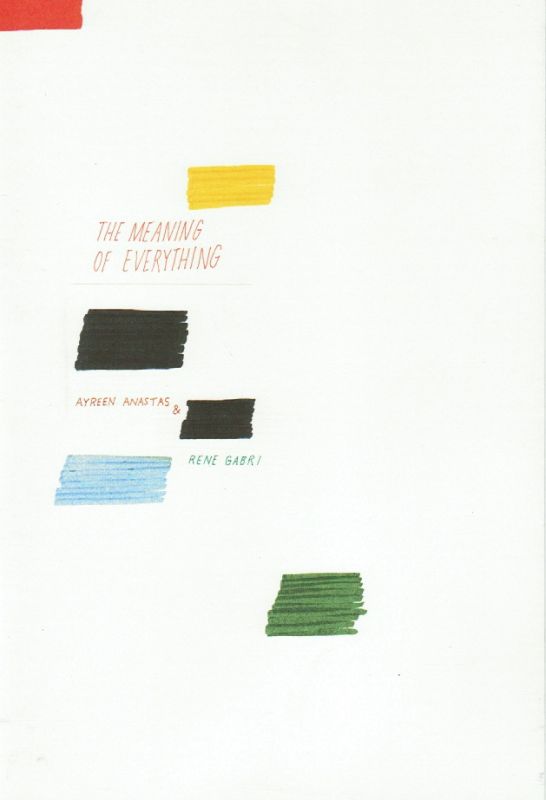 Article Number: 1319
Soft Cover,
German
, Staple Binding, 16 Pages, 2009,
The meaning of everything
availability unknown, if interested please write an email
The Meaning of Everything ist eine langfristig angelegte Zusammenarbeit, die ihren Titel einer Buchserie entlehnt. Diese Bücher bestehen aus einer Reihe von Notizen, Zitaten, Diagrammen und Zeichnungen, die die Fragen nachverfolgen beziehungsweise abbilden, denen sich Anastas und Gabri im Kontext ihrer Arbeit und dem Verlauf ihres Lebens gemeinsam widmen.
Es lässt sich daher nicht präzise vorhersagen, wovon die Bücher der Serie handeln noch welche Form diese haben werden, da das Leben, das diese Bücher schreibt, erst noch gelebt werden muss. Die aktuelle Serie ist der Versuch der beiden Künstler/innen, die intellektuellen und affektiven Bewegungen des 'Werdens', aus denen ein Leben sich zusammensetzt, öffentlich zu machen und ihnen eine Form zu geben. Die Serie hat daher eine spekulative und prospektive Dimension. Manchmal fungiert sie als Drehbuch, aus dem Ereignisse, Aktionen, Performances, Videos, Texte, Gesten und andere unvorhersehbare Geschehnisse hervorgehen.