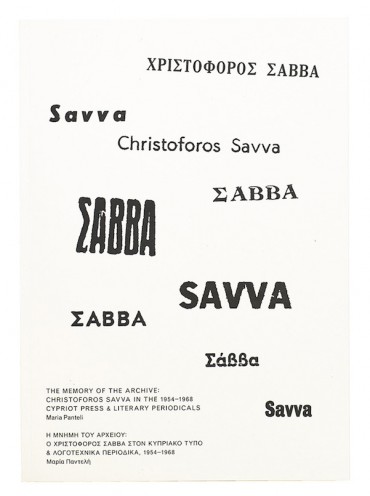 The Memory of The Archive
Christoforos Savva in the 1954–1968 Cypriot Press & Literary Periodicals
availability unknown, if interested please write an email
The Memory of The Archive: Christoforos Savva in the 1954–1968 Cypriot Press & Literary Periodicals is published on the occasion of the survey exhibition project Untimely on Time: Christoforos Savva (1924–1968), co-organised by the Cyprus Ministry of Education and Culture, Cultural Services and Point Centre for Contemporary Art,
Nicosia and presented at the State Gallery of Contemporary Art – SPEL, Nocosia, Cyprus, between 31 January and 31 March 2019.

The book is a compilation and an archive of press cuttings, consisting of more than two hundred articles, commentaries, reports, and advertisements that appeared in the mainstream Cypriot press and literary periodicals between 1954 and 1968 and relate to the Christoforos Savva. The press cuttings are treated as objects with a story, a narrative worth telling with the goal of shedding new light on the artist's life and career.