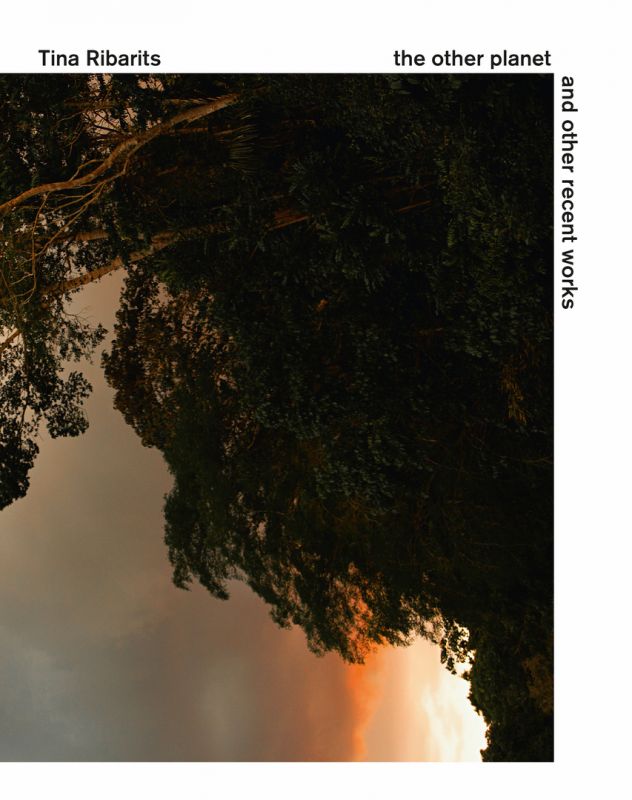 Article Number: 11614
Soft Cover,
German
, Thread Stiching, 103 Pages, 2017, Galerie Reinthaler
The Other Planet and Other Recent Works
€ 20.00
Im Zentrum von the other planet liegt, räumlich wie konzeptuell, ein üppiger, grüner Wald. Eine Kamera bewegt sich langsam durch riesige Blätter, untersucht jeden Winkel und taucht den Betrachter in diesen überwältigenden Raum. --- At the centre of the other planet, both spatially and conceptually, there is a lush, green forest. A camera moves slowly through giants leaves, examining every angle, immersing the viewer in this overwhelming space.
Das Bild will beweisen: Das ist echt. Oder lässt unseren Körper wissen: Du bist hier. Genau diese Beharrlichkeit wirkt verdächtig und untergräbt ihre eigene Behauptung. Wie auch in anderen Arbeiten von Tina Ribarits ist jedoch ein Twist vorhanden: Diese scheinbare Simulation verweist auf eine computergenerierte, stereoskopische 3D-Bildlichkeit, ist aber in Wirklichkeit das Ergebnis von Ribarits' tatsächlich verbrachter Zeit im brasilianischen Amazonas. Man selbst ist zwar nicht dort, aber sie war es. In echt.
---
The image does what it can to prove to us: this is real. Or, implicating our bodies: you are here. This very insistence comes off as suspicious, undermining its own claims. As in other works by Tina Ribarits, though, there is a twist. This seeming simulation gestures towards computer-generated, stereoscopic 3D imaging, but is in fact the result of Ribarits' genuine time spent in the Brazilian Amazon. You may not be there, but she has been. Really.
Sprache: Deutsch und English