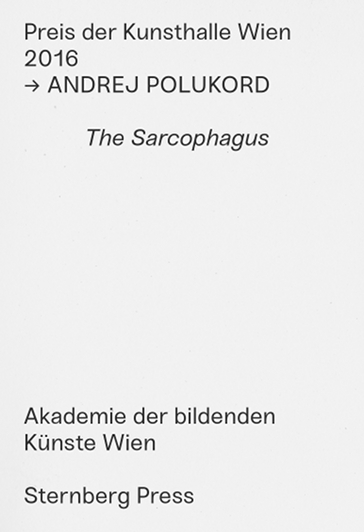 Article Number: 8830
Soft Cover,
English
, Thread Stiching, 46 Pages, 2016,
Sternberg Press
, ISBN 978-3-956792-94-6
The Sarcophagus
Preis der Kunsthalle Wien 2016
In cooperation with the Academy of Fine Arts and the University of Applied Arts, the Kunsthalle Wien Prize is awarded for outstanding final projects at the two universities of art in Vienna.
Andrej Polukord, graduate of the Academy of Fine Arts and corecipient of the 2016 prize, draws on painting, installation, performance, and video art to create unpredictable environments and absurd situations that produce double meanings and ambiguity. Polukord installed at Kunsthalle Wien, an environment that takes the form of a cave. In this installation mushrooms grow from the ceiling of the Kunsthalle, transforming the gallery into the space of an inverted forest floor. This publication includes photo documentation of the project as well as a poster supplement, along with a foreword by Eva Blimlinger, an essay by curator Lucas Gehrmann, and a conversation between the artist, Lucas Gehrmann, and Kunsthalle Wien director Nicolaus Schafhausen.
Language: English/German