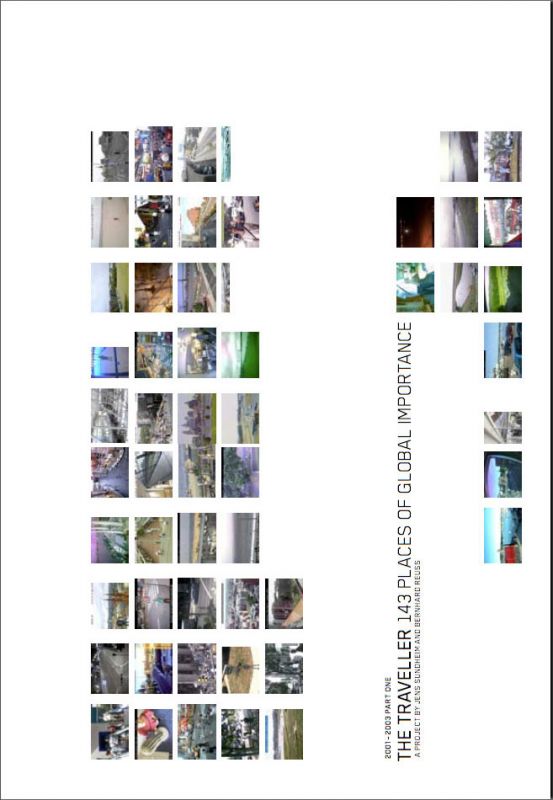 Article Number: 202
Hard Cover,
German
, Staple Binding, 153 Pages, 2004
The Traveller
143 Places of Global Importance
The project »The Traveller« deals with onmipresence of webcams in both private and public space. The Traveller (performed by Jens Sundheim) is a figure who visits places webcams are pointed at.
As these cams constantly transmit images via internet in almost every place on the planet, that what is shown becomes enormously relevant, gains almost global importance.
Before an image is overwritten by the following one, we save the data, we conserve the image as a »web photography«. The locations visited by the Traveller are documentated by these web photographies as if he sends a modern kind of post card.Reasons to point web cams at the world are as various as the created images. Information (e.g. about traffic jams), surveillance, advertising tourist attractions. Some webcams are set up out of private enjoyment or enthusiasm for modern techniques and show nothing more than their owners's backyard. The fact that the backyard is visible via internet makes it something important. Something worth seeing, and worth travelling to.The project started 2001 in Las Vegas, Nevada. Until now, the Traveller went to about 360 webcam locations in 14 countries. At the end, we want him to visit every continent and create a world wide trip.Among many other places, the Traveller encountered the legendary coffee machine world's first webcam was pointed at, the ESA European Space Agency main control room, and a cell at a New York police station after being arrested for strange behaviour.