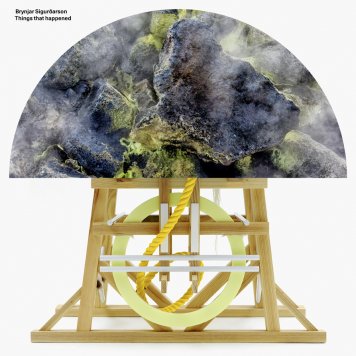 Article Number: 11364
Soft Cover,
English
, 64 Pages, 2015, ISBN 978-94-91677-34-2
Things that Happened
Onomatopee 55.2
An exclusive book about the wonderful work of emerging Icelandic designer Brynjar Sigurðarson, and his curious encounter with anthropologist Tim Ingold. Includes a foreword by design visionary Li Edelkoort. Edited by design researcher Sophie Krier. 
Included in this book are a conversation with anthropologist Tim Ingold on the origin of things, as well as a 12-inch vinyl for which Sigurðarson has collected, recorded, and mixed stories on musical soundscapes. A selection of previously unpublished drawings and writings will thrill amateurs of hand-made details, myths, darkness, isolation, micro-history, memory, stones, animals, and the supernatural. Instinctively bridging the fields of design and anthropology, industrial manufacturing and craftsmanship, Brynjar Sigurðarson has built a rich body of work over the past years. His way of working can perhaps best be compared to the attitude of a hunter on a constant lookout for the unusual, becoming one with the very world he's studying. The book is the third publication of an on-going research entitled Field Essays, which explores the tactile world of thinking and making, and was initiated by Sophie Krier in 2008. Next to periodical books, Field Essays takes the form of exhibitions, debates and educational programs.
Sprache: English