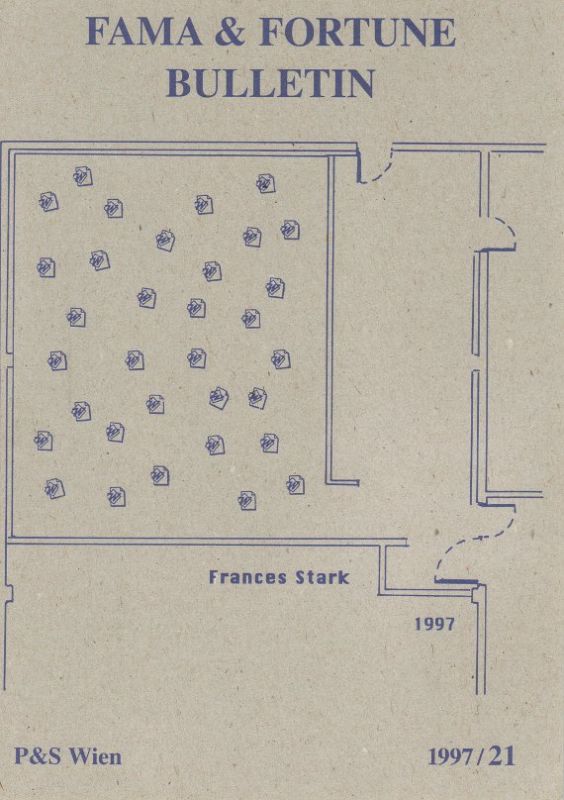 Three Works 1995-1997
Fama & Fortune Bulletin, Heft 21
availability unknown, if interested please write an email
A limited edition magazine each issue of which is effectively a "performance" by a chosen artist who determines every detail of the text and graphics. Published since 1990. A collector's item.
3 Poems without illustrations.
Frances Stark (* 1967 in Newport Beach, California), who is also a writer and poet, often uses words or phrases as visual motifs in her compositions. Through the artist's tracery, a line of text borrowed from a novel, poem or even a pop song will lead the viewer through the experiences that are the hallmark of her work: Words become an abstract design through repeated hand-tracing, while they cognitively but subtly introduce a subject, mood, and often the context of another discipline such as music, architecture, philosophy.
"It is certainly true that Frances is 'not simply a visual artist who writes'. Stark's relationship with language and the visual arts is far murkier than that. In her work -both written and visual, although it is often not so easy to distinguish between the two -language takes the form of an infinitely malleable material. Stark shapes language into her miscellaneous texts: 'artworks', 'essays', 'articles', 'interviews', 'poems', 'reviews' etc. Stark's writings, whilst highly readable, do not follow or adhere to any traditional literary standards. Stark affords language the license to take unexpected and often unprecedented turns. Aligning something that resembles poetry, with something that might pass for journalism, with what often appear to be diary entries, Stark has created a literary form uniquely her own." - Matthew Higgs (from 'Frances Stark Collected Writing: 1993-2003')
Language: English