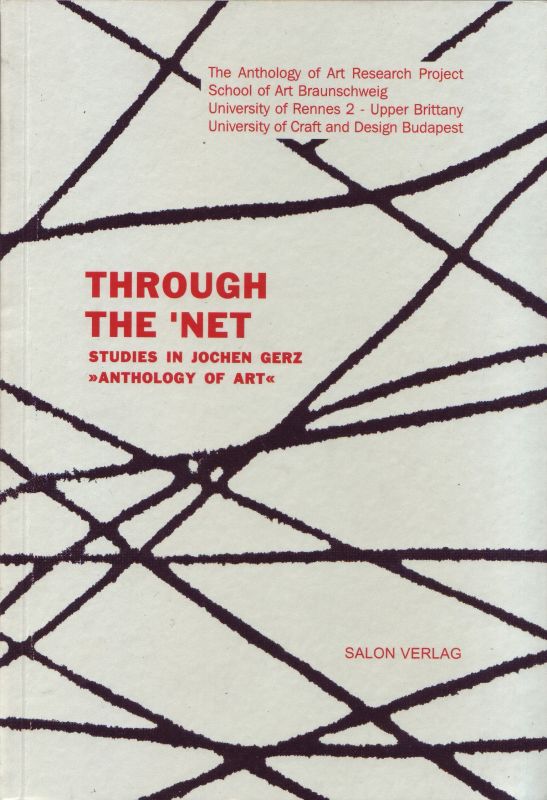 Article Number: 6375
Hard Cover,
English
, Staple Binding, 152 Pages, 2003
Through the 'Net
Studies in Jochen Gerz "Anthology of Art"
availability unknown, if interested please write an email
Die Internet-Arbeit "The Anthology of Art" von Jochen Gerz ist ein irritierendes, sperriges Werk – trotz aller scheinbaren Zugänglichkeit im Netz. Im Verlaufe eines Jahres (2001/02) haben 312 KünstlerInnen und KunsttheoretikerInnen aus der ganzen Welt, fast alle zum innersten Kreis des "Kunstsystems" gehörig, auf unterschiedlichste Weise reagiert auf Gerz' immer gleiche Frage: "Was ist, im Kontext der zeitgenössischen Kunst, Ihre Vorstellung einer noch unbekannten Kunst?".
Die Antworten – Bilder und Texte, veröffentlicht im Internet unter www.anthology-of-art.net – spiegeln auf geradezu schockierende Weise die Vielfalt und Widersprüchlichkeit der heutigen "Kunstszene" – und darüberhinaus unserer Welt. Mit dem ephemeren und immateriellen Charakter der Bildschirm-Bilder, mit der kaleidoskopischen Vielfalt und der Flüchtigkeit der Wahrnehmung, die hier prädisponiert ist, macht Gerz das Internet zum zentralen Medium seines Werkes.
Mit diesem widersprüchlichen, labyrinthischen, scheinbar autorlosen Werk des vor allem durch seine Arbeiten im öffentlichen Raum international bekannt gewordenen Künstlers setzen sich die hier vorgelegten Forschungsbeiträge aus sehr unterschiedlichen Perspektiven auseinander. Untersucht werden der Entstehungsprozess der Anthology, ihre Parallelen zu anderen Werken des Künstlers im öffentlichen Raum und die spezielle Form der Reflexion des Mediums Internet, die Gerz hier entwickelt. Die Texte ziehen Vergleiche, die von Platons Utopia bis zu Internetprojekten reichen, auch heftige Kritik nicht unterschlagend. Die in einjähriger Zusammenarbeit von französischen, deutschen und ungarischen Kunstheoretikern und Künstlern erarbeiteten Beiträge nehmen Gerz' Anthology nicht ihren eigenartig irritierenden und widersprüchlichen Charakter – ermöglichen aber Annäherungen und überraschende Zugänge. Sprache: Englisch