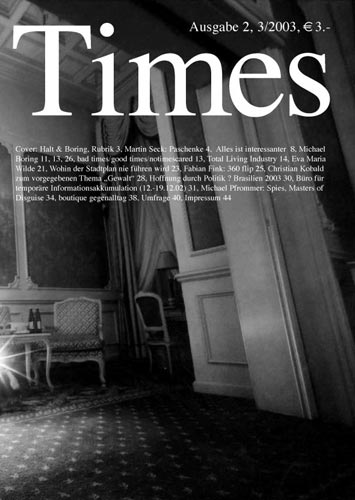 Article Number: 6512
Magazine,
German
, Staple Binding, 58 Pages, 2003
Times
availability unknown, if interested please write an email
Chicago, Times, Plotter, Helvetica, DIN, Techno, Löhfelm, RR_02, Univers, Tiffany, Circuit, Memphis, Gringo, Zeus, The Mix, Princess Lulu, Pigiarniq, Paper, Libertine, Trixie, Déjà Vu, Auto, Rediviva, Acid and Wanda are the 25 issues of the magazine founded in 2002 in Vienna by a group of Austrian, German and Swiss artists. With 2 to 3 issues a year, the members of the team publish their magazine around their personal encounters and artistic interests.
Each issue present around fifteen contributions, in both texts and images. Artists, writers, scientists and specialists in all kind of fields are invited to contribute and intervene in a sober and efficient layout already acknowledged by the London Design Museum in its exhibition Best European Design 2005.
The focus of the editorial activity is organizing and assembling the contributions, including works and found footage by the editors, in order to create for each issue a strong and beguiling unity, amplified by the use of a different font for each issue. Each issue printed in black and white in an edition of 300 copies, is completed with a color centerfold poster by an internationally recognized artist (Kai Althoff, Elke Krystufek, Daniel Pflumm, Ayse Erkmen, Richard Hawkins, Amelie von Wulffen, Cameron Jamie, Renée Green, Jennifer West etc...). Apart of the publishing work, the team organizes for each issue a release party in a specific space, such as a panoramic bar, a wax museum, project spaces, other magazine's editorial spaces, etc... inviting an artist to perform or exhibit (for "Techno", Gregor Hildebrandt showed in Vienna his tape paintings and free jazz legend Sven Åke Johanson made music with the magazine "Techno" in Berlin, etc.). Broadening its network, the magazine gets invited into art spaces to which the team respond contextually: Multiple author wallpainting for a magazine fair, teamshow at Flaca in London, curated groupshow in Circuit, Lausanne, artists-in-residence in Copenhagen, lectures in galleries and workshops in universities, etc.. Cover: Halt & Boring, Rubrik 3, Martin Seck: Paschenke 4, Alles ist interessanter 8, Michael Boring 11, 13, 26, bad times/good times/notimescared 13, Total Living Industry 14, Eva Maria Wilde 21, Wohin der Stadtplan nie führen wird 23, Fabian Fink: 360 flip 25, Christian Kobald zum vorgegebenen Thema "Gewalt" 28, Hoffnung durch Politik ? Brasilien 2003 30, Büro für temporäre Informationsakkumulation (12.-19.12.02) 31, Michael Pfrommer: Spies, Masters of Disguise 34, boutique gegenalltag 38, Umfrage 40, Impressum 44 Sprache: Deutsch / Englisch