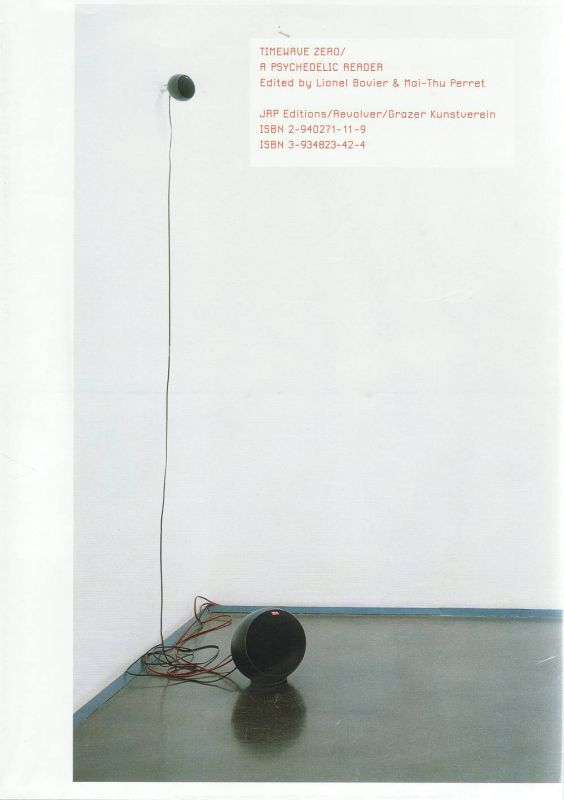 Timewave Zero
A psychedelic Reader
availability unknown, if interested please write an email
Diese Publikation entstand im Zuge der gleichnamigen Ausstellung "Timewave Zero / The Politics of Ecstasy", welche von 7. Oktober bis 4. November 2001 im Grazer Kunstverein stattfand. Kuratiert von Lionel Bovier und Jean Michel Wicker.
Der Titel dieser Ausstellung verweist auf das enorme Interesse, das dem bewusstseinserweiternden Potential von Drogen entgegengebracht wird. Da sich die bildenden Künste seit jeher mit den Gesetzen und Limitationen eines Teilaspekts der menschlichen Wahrnehmung befassen, widmete sich diese Ausstellung vorrangig dem Visuellen und forschte nach dem (lange tabuisierten) Mysterium des Unerreichbaren, das jenseits des Optischen angesiedelt ist. Die ausgestellten Arbeiten, u.a. von Lisa Beck (USA), Angela Bulloch (UK), Charles und Ray Eames (USA), Vidya Gastaldon (F), Isa Genzken (D) und Jack Goldstein (USA), boten keine illustrativen Antworten, sondern formulierten die Problematik mit Hilfe eines abstrakten visuellen Vokabulars.
Als Reader zum Thema Drogen konzipiert, erschien zur Ausstellung dieses Buch in Kooperation mit Mai-Thu Perret. Es enthält Texte von Timothy Leary, Sadie Plant, Diedrich Diederichsen, Jörg Heiser, Michel Foucault u.a., in Deutsch und Englisch.