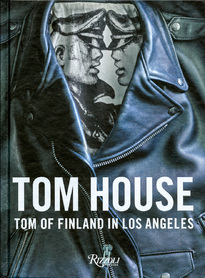 Article Number: 12117
Hard Cover,
English
, Thread Stitching, 256 Pages, 2016
Tom House
Tom of Finland in Los Angeles
€ 50.00
An immersive glimpse into the private, domestic world of one of the twentieth century's most revolutionary artists. Nestled in a leafy, residential section of Los Angeles is the house where Tom of Finland (Touko Laaksonen, 1920–1991) lived and worked during the last decade of his life.
It is an extraordinary place—part shrine, part haven, part art-historical archive, and part utopian collective. Still occupied by the men who resided there with Tom and dedicated themselves to preserving his legacy, the house serves as a living tribute to the artist's astonishing oeuvre and his radical vision of unapologetic homoerotic sexuality. Offered to the reader as an intimate view of the man behind the hypermasculine imagery, the book moves from art-filled room to art-filled room, dining room to dungeon.Almost every surface of the house is covered in work made by Tom himself, or by those he influenced and inspired. For additional insight, Martyn Thompson's revelatory photographs are paired with rarely seen preparatory sketches and unfinished drawings. Together, the compelling images place Tom's work in an entirely new light, inviting readers to explore a hidden world of dreams and desire—the world of Tom of Finland.