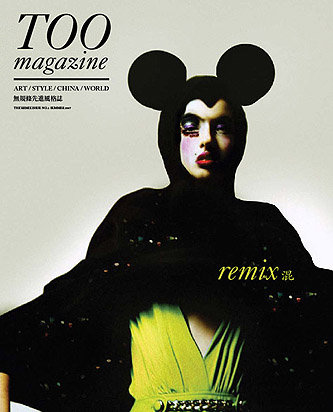 Article Number: 245
Hard Cover,
German
, Staple Binding, 200 Pages, 2007
Too Magazine
availability unknown, if interested please write an email
International, non-formulaized, anti-steretypical and unwilling to compromise for commercial value, Too Magazine is a brand new independent art & style magazine founded by 4 Chinese creatives living in 4 utterly different world-renowned cities - Beijing, Guangzhou (Canton), Taipei and London. The magazine, making its debut in July 2007, will introduce to the world new works of a new breed of creatives, most of which Chinese or Chinese by origin. The magazine's characters are, represented their contributors' own unique interpretation of style, literature, art and design.
TOO Magazine
無規條先進風格誌
ART / STYLE / CHINA / WORLD
www.toomagazine.com

Vol. 01 / Remix Issue / Summer 2007
Published byTOOGroup, China
Copyright© 2007TOOGroup

Contents of First Issue - Remix
*25 *remix* arts contribution from artists around the world
*TOO crossover with <Theme> Magazine New York
*Toronto non-profit Organization - Style In Progress
*Editorial on 5 master in "Re-mix" fashion
*John Galliano exposed backstage
*Interview with Japanese art group -maywadenki
*Japanese artist Masataka Kimura
*Japanese illustrator Kinpro
*Featured works by No.223(photography,China),my little dead dick(photography,China),Young Ou(Design, UK),Qingtou Yi(Photography, China),Nicoline(Photography, The Netherlands),Men Xiaolei (Illustrations, HongKong)

For More information, please go to
www.toomagazine.com

*****************************************************************
《TOO》,一本獨立製作和出版的雜誌書,立足國際化視野的時尚、流行文化、創作和生活方式。它是多變的,不定的,反陳腐和老套的,摒棄低級商業趣味的出版物。中英雙語。創刊號大16開本,200頁。於國內大陸和香港臺灣,以及一些國外城市獨立發行。

First Issue___混_Remix
全球25達人"混"創作
TOO×紐約《Theme》雜誌50問
多倫多Hip-hop推手SIP
混時尚設計大師5人
John Galliano後臺曝光
專訪日本藝術團體"明和電機"
日本藝術家木村匡孝
日本插畫師Kinpro新矢千里
編號223,my little dead dick,Young Ou,青頭一,Nicoline,門小雷作品…

Remix Issue Contributors
Andrea Kwang, Winson Young, 馬啦Lala Ma, Digitalgroove, Sanpig, Rubeary, 楊洲, Essochateau, 林竹, My little dead dick, 擦, 馬思亮Siliang Ma, 青頭一Yiki Liu, Paul Herbst, Nicoline, 門小雷, Jovi Xu, Ceilen Lau, Linlin@Jellymon, death by chocolate, Nick Barham, Rodney Evans, 李敢記, William Hundley, 莊羽, 曹方, 張碔(第十個), 龍貝妮, Joanna Skrzypczak, 兩兩一樹221tree, Kat, Henli, Blackie, 阿話, 蔡鳴Greenwall, 創克斯Trunks, 大凡, 茆穀光Mark Mao, 小池晋, 小季, 非常廟, 小金寶, John H Lee, Tae Yoon, Hannah Lee, Jordan K, Thomas, Alex So, Eamon Lane, Rebecca Smeyne, 羅浩, Min, Anny, 林笛Lemon.
______________________________________________________
主編Editors in chief:編號223(Beijing) / 愛米(Guangzhou)
視覺總監 Art Director:區楊(London)
采編創作 Editors:Nini (Taipei) / Siya (Toronto)