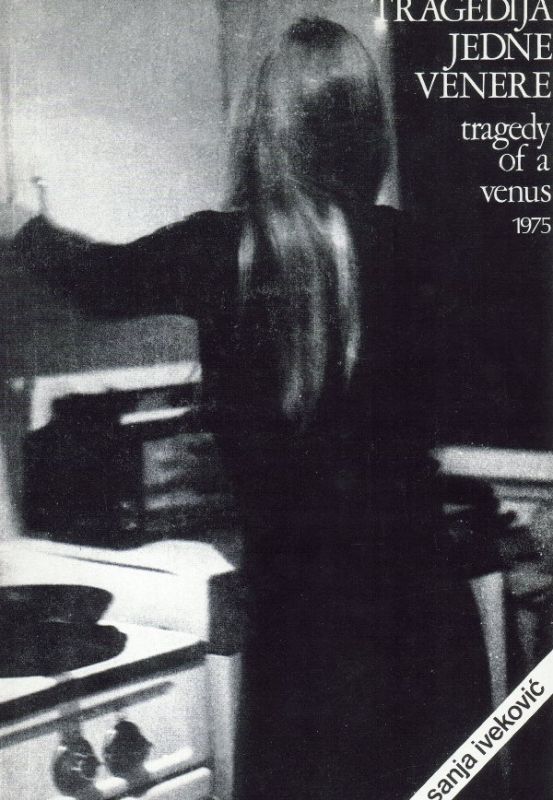 Tragedy of a Venus, 1975
Tragedija Jedne Venere, 1975
availability unknown, if interested please write an email
In her serial photo montages "Tragedy of a Venus" (1975) Sonja Ivekovic juxtaposes media images with private pictures that contain parallels in poses and props. The found-footage material employed ranges from advertisements and pictures of Marilyn Monroe, to newspaper cuttings that show, on the one hand, everyday misfortune, and, on the other, the glorified life of high society. In addition to the photo montages, video works by the artist made since the mid-seventies will be shown, in which she features as a protagonist. Inscribing herself into the public discourse, Ivekovic thus makes visible collective social codes of behavior and their origins in the gender-specific, standardized patterns employed by mass media.
Reprint of the publication of 1976 on occasion of the exhibtion Double life (May - August 2001). In Tragedy of a Venus, 1975-78, newspaper photographs of Marilyn Monroe are paired with photographs from the artist's own albums to create quaint parallels.
Text in Croat./Engl.
Sanja Ivekovic was born in 1949 in Zagreb, Croatia, where she studied from 1968 to 1971 at the Academy of Fine Arts. As one of the first explicitly feminist artists in Croatia she has also been the facilitator and founder of a large number of political initiatives including the Women Artists' Center Elektra and the Center for Women's Studies in Zagreb. Her works have repeatedly won prizes at film and video festivals, including those in Locarno and Montreal. Sanja Ivekovic lives in Zagreb.