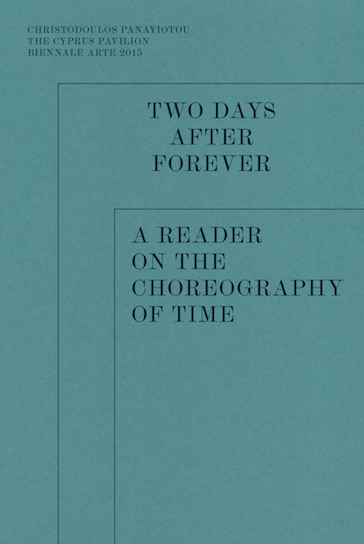 Two Days after Forever
A Reader on the Choreography of Time
€ 20.60
This Book was published on the occasion of the Cyprus Pavilion at the 56th Venice Biennale.
Two Days after Forever is not an exhibition catalogue, but rather an alternate temporal manifestation of the themes of the pavilion itself—in 2015, realized by artist Christodoulos Panayiotou and curated by Omar Kholeif.
With critical writing, poetry, open-ended letters, sketches, and provocations through both new and existing texts, this publication explores materiality as performance and how quiet gestures can function as subversive counterpoints to homogenous nationalistic narratives. The backdrop, Cyprus, becomes a site of multiple imaginaries from where this reader will seek to articulate a new route of escape.
Language: English