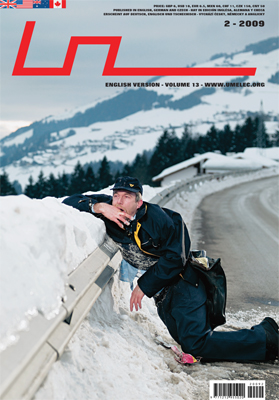 Article Number: 9150
Soft Cover,
English
, Glue Binding, 128 Pages, 2009
Umelec Volume 13 - 2/2009
English Version
availability unknown, if interested please write an email
Umelec Magazine since 1997 is the only art magazine devoted to current visual culture in the Czech Republic. It is directed to the international scene, particularly the wider European circle. Its emphasis on art in Central and Eastern Europe stems from its unique position in that region.
The idea of the Austrian issue came up in the first place because, it seems the Czechs simply cannot forget the Hapsburg monarchy, as well as the fact that commonly it is still regarded as something of a shining example of a community of nations in cenral Europe. It is whuite natural that Umelec has an interest in Austria, as sometimes it is the land where Metternich's quotation, about the Balkons beginning at the Rennweg, is trotted out from official or corporate side and where a view of its significance as an intermediary between East and West prevails. Thus, of particular interest is the article by Herwig Höller, who takes up the question of the Zampa di Leone - the deliberately anonymous Serbian artist evidently everyone within the Blgrade scene knows, yet whose identity none is willing to reveal- they compel one to maintain an orinic distance towards the post 1989-East-West-relationships, from which things become more visible. Apart from all that we were naturally also interested in the themes that are taken up within the country itself, where the marketing of public space, urban space, the art martket, alternative artistic production are discussed...
Language: English