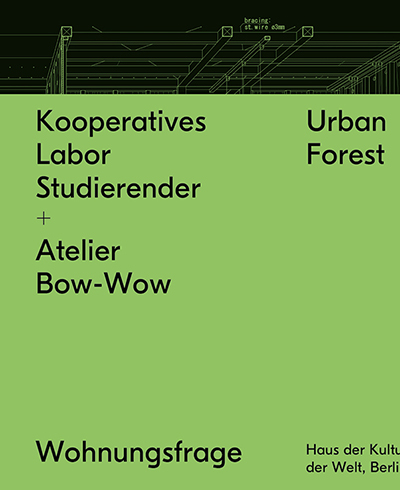 Urban Forest
Aus der Reihe Wohnungsfragen
Kann Architektur das Teilen von Räumen und Wissen ermöglichen? Im Rahmen von Wohnungsfrage entwickeln das Kooperative Labor Studierender (Kolabs) und das Tokioter Architekturbüro Atelier Bow-Wow das Wohnprojekt "urban forest" für Menschen im Bildungsprozess.
Größen, Formen und Eigenschaften von privaten, gemeinsamen und öffentlichen Räumen werden dabei in einem Spannungsfeld von Aktivismus und Gemeinschaftsbildung verhandelt.
Can architecture enable the sharing of space and knowledge? As part of Wohnungsfrage, the Kooperatives Labor Studierender (Kolabs) and the Tokyo architecture office Atelier Bow-Wow are developing a housing model called "urban forest" for people in education. The dimensions, shapes, and qualities of private, communal, and public spaces are debated in a dynamic atmosphere of activism and cooperative endeavour.
Sprache: English/Deutsch