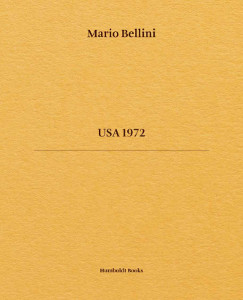 Article Number: 7191
Soft Cover,
English
, Thread Stitching, 168 Pages, 2015
USA 1972
availability unknown, if interested please write an email
In June 1972, Mario Bellini arrived in New York to take part in 'Italy, the New Domestic Landscape', the MoMA exhibition where he was to present his 'Kar-a-sutra', the very first MPV, a revolutionary space-mobile.
Once the show was over, Bellini set off on a journey-cum-enquiry into the American way of living. He was accompanied by Francesco Binfaré, Davide Mosconi and a 'safe- conduct' issued by the MoMA which was to open many doors: those of Andy Warhol's studio in New York, of Hugh Hefner's Mansion in Chicago, and of Beverly Hills villas occupied by hippies. Bellini plotted his itinerary day by day, moving among the Mormons of Salt Lake City, the utopia of Arcosanti, and villages of mobile homes along the roads of the Midwest. His Hasselblad was to record the dreams and hopes of an unexpected America, one which perhaps no longer exists.
Language: English, Italian