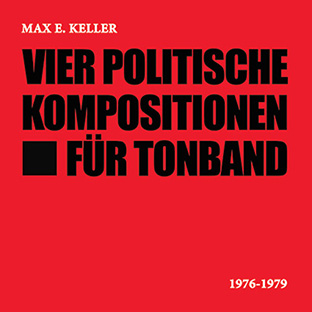 Article Number: 7488
CD,
German
, No Binding, 20 Pages, 2015, Tochnit Aleph
Max E. Keller, Vier Politische Kompositionen Für Tonband
1976-1979
A rare case of left-wing / socialist electroacoustic music.
Tochnit Aleph TA134. Comes with 20 page illustrated booklet with liner-notes in German and English / Four political tape compositions 1976-1979 by Swiss composer Max E. Keller (b.1947). The CD includes Keller's piece from the long out-of-print and sort of legendary Split-LP with Martin Schwarzenlander from 1977 plus 3 previously unreleased tape compositions.
Tracklist:
SICHER SEIN (1976)
for voice and tape, 24'06 min
GRUNDGESETZE (1977)
for four voices and tape, 13'32 min
SIE (1978)
for voice and tape, 15'08 min
HYMNEN (1979)
for two voices and tape, 14'26 min)
Language: English / German