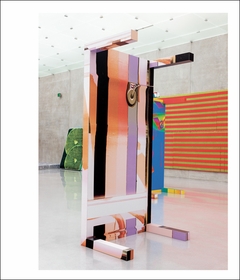 Wade Guyton, Guyton/Walker, Kelley Walker
availability unknown, if interested please write an email
In diesem Ausstellungskatalog werden zum ersten Mal die drei Künstlerpositionen Wade Guyton, Guyton\Walker und Kelley Walker gemeinsam vorgestellt. Die Präsentation erlaubt die parallele Betrachtung und Auseinandersetzung mit beiden Einzelpositionen sowie mit dem 2004 gegründeten Künstlerduo.
Dem Thema der eigenständigen Autorschaft und ihrer übergreifenden künstlerischen Techniken und Bildsprachen widmen sich kenntnisreich Sam Pulitzer in seinem Beitrag über Wade Guyton, Quinn Latimer in ihrem Essay über Kelley Walker und Jack Bankowsky, der das Duo Guyton\Walker vorstellt und kunsthistorisch verortet. Der einführende Essay von Yilmaz Dziewior stellt die Besonderheit der Konzeption der Ausstellung vor. Installationsaufnahmen aus dem Haus sowie ein sorgfältig zusammengestellter Anhang dokumentieren umfassend jede der drei Künstlerpositionen.
Sprache: Deutsch/ Englisch
Individual authorship, along with artistic techniques and pictorial languages the duo share in common, are the subjects of Sam Pulitzer's knowledgeable contribution on Wade Guyton, Quinn Latimer's essay on Kelley Walker, as well as Jack Bankowsky's text, introducing and locating Guyton|Walker in art historical terms. Yilmaz Dziewior's introductory essay lays out the thinking behind the exhibition's distinctive concept. Photographs of the installation at Kunsthaus Bregenz as well as a carefully compiled appendix provide a comprehensive documentation of each of the three artistic positions.
Language: german/ english