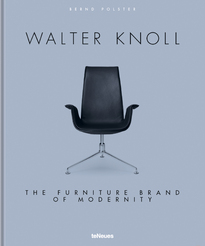 Article Number: 12116
Hard Cover,
English
, Thread Stitching, 400 Pages, 2019
Walter Knoll – The Furniture Brand of Modernity
€ 50.00
Walter Knoll gilt als Möbelmarke der Moderne, die Klassiker und Ikonen der Avantgarde geschaffen hat: Möbelstücke, die stilbildend wirken und unser Lebensgefühl nachhaltig prägen.
Das reich illustrierte Buch lässt den Leser mit spannenden Texten von Bestsellerautor Bernd Polster die Historie des Unternehmens nachvollziehen und ein Stück Zeitgeschichte miterleben. Anhand der prägenden Persönlichkeiten Wilhelm, Hans und Walter Knoll sowie zuletzt Markus Benz zeichnet das Buch die Entwicklung des Unternehmens Walter Knoll als Firmenbiographie nach. Über anderthalb Jahrhunderte wird die Entstehung dieser Möbeldynastie geschildert und eine umfassende Designgeschichte der Marke in Beziehung zu wichtigen kulturhistorischen Entwicklungen dargestellt.
Als das Thomas Mann House in Los Angeles von der Bundesrepublik umgestaltet wurde, griff man auf Möbel der Marke Walter Knoll zurück, um deutsche Kreativität und wirtschaftskulturelle Leistungsfähigkeit zu illustrieren. Denn bei Walter Knoll handelt es sich um eine der erfolgreichsten Möbelfirmen der letzten 150 Jahre. Das Unternehmen aus Herrenberg bei Stuttgart zählt heute zu den führenden Herstellern im internationalen Highend-Segment des Einrichtens. Wilhelm Knoll, der 1865 in Stuttgart einen Lederhandel gründete, stieg vom Gerber und Kaufmann zum württembergischen Hoflieferanten auf. Als seine Söhne Willy und Walter 1907 die Firma übernahmen, begannen sie mit der Sitzmöbelproduktion, wurden zum ersten Exporteur der Branche und revolutionierten das Polstermöbel. Walter Knoll machte sich Mitte der Zwanzigerjahre selbständig. Bei der legendären Stuttgarter Weißenhofsiedlung, die 1927 unter der Leitung von Mies van der Rohe realisiert wurde, gelang ihm auf Anhieb der Einstieg in die Avantgarde.